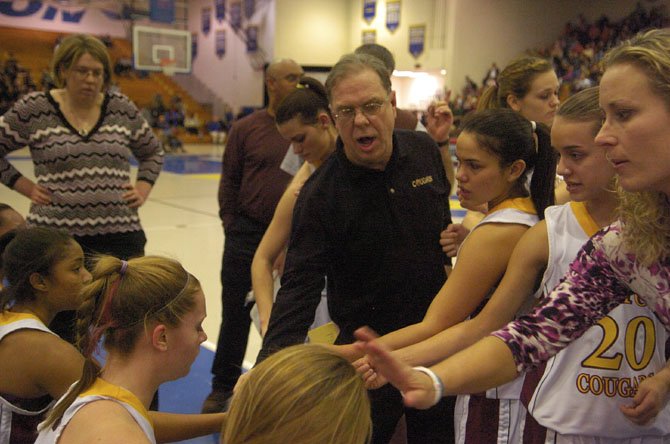 Vienna — The 39th Annual Capital Classic high school basketball event, set to take place on Saturday, April 21, will consist of a full day of All Star hoops games at T.C. Williams High in Alexandria.
The day's first game, a girls' contest, will be at noon time between the Virginia All Stars versus the Maryland All Stars. The local Virginia squad will be under the direction of head coach Fred Priester, who led the Cougars to the Virginia State AAA crown a few weeks ago. At 2 p.m., another girls' game, between the Prep/Private School All Stars versus the Inner High Stars will be played.
In the evening, there will be a boys' All Star double-header, beginning at 6 with a preliminary contest between the Suburban All Stars versus the D.C. All Stars. The Suburban All Stars will include Northern Region players such as Westfield's Zach Elcano (American University), Langley's Daniel Dixon, Yorktown's Jack Earley, and Edison's Matt Murphy. The District All Star team will include Paul VI High (Fairfax City) players Patrick Holloway (George Mason recruit), Tilman Dunbar (Navy), and Coleman Johnson (Fairfield); Episcopal's Kethan Savage, a former Chantilly High player who will play at George Washington; and Potomac School (McLean) player Cullen Hamilton.
After the first evening game, the main event Capital Classic Showcase, scheduled for around 8, will take place between the US All Stars versus the Capital All Stars. The US All Stars team will consist of five University of Maryland recruits along with recruits from North Carolina, Virginia, Clemson, Virginia Tech, and men's NCAA tournament runner-up Kansas. The Capital All Stars, meanwhile, will include recruits from Wake Forest, George Mason, George Washington, and Navy.
For more information on all the day's basketball action, go to www.TheCapitalClassic.com.