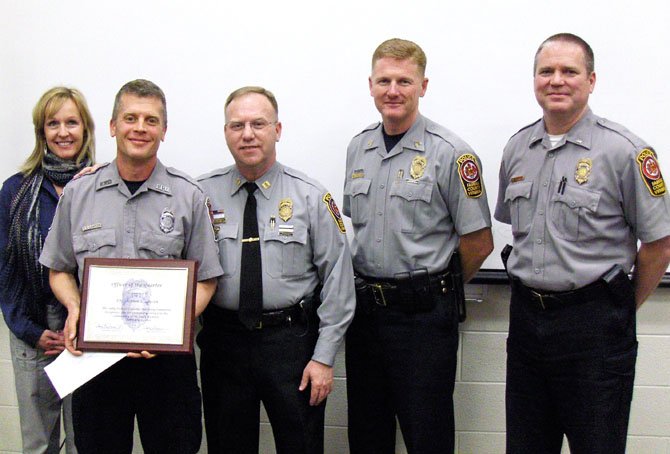 Chantilly — Police officers don't have to be out on the streets to make a difference in their communities. School Resource Officers (SRO)s make an impact every day, and for all he's done in that capacity, PFC Steve Lawson was honored recently as the Sully District Station's Citizen's Advisory Committee's Officer of the Quarter.
He's been a Fairfax County police officer for 15 years — five of them at Sully — and for the past five years, he's been the SRO at Stone Middle School.
"He's a well-rounded, consistent officer," said Sgt. Bill Fulton, the SRO supervisor who nominated Lawson for the award. "He's conscientious about being in the building and available to the staff and kids. He treats people with respect and dignity, and he gets treated that way, in return."
"He does his job and does it well," added Capt. Purvis Dawson, commander of the Sully District Station.
In his nominating letter, Fulton wrote that, since Lawson's been at Stone, he's established himself as "a vested member of the school staff and an invaluable mentor and role model for the children and staff." Fulton said Lawson's "mild-mannered personality" imbues the population at Stone with "a sense of confidence and security" that makes them glad he's there.
"Steve is very involved with the kids and is always in the classroom teaching [them] about current crime trends," wrote Fulton. "He realizes the value of educating the students and staff and [knows] that, without this information, it could have an adverse impact on the students as individuals and the school as a community."
Fulton said Lawson's youthful appearance helps the students feel comfortable about approaching him and asking for his guidance.†Lawson also helped start a self-defense class at Westfield High and assisted in teaching senior female students about the risks that come with college life. He also provided a curriculum on personal safety.
In addition, Lawson has worked closely with Sully police investigators, as well as with Criminal Investigations Bureau personnel. "Due to his firsthand knowledge of the at-risk students in his school, he has been able to identify burglars that were former or current students and worked closely with detectives regarding major crime investigations," wrote Fulton.
He also called Lawson "an incredible resource when it comes to traffic issues regarding the school's kiss-and-ride [area] and with the safety of students that walk to school."
Although Lawson has had to hold people accountable when they've made poor decisions, Fulton said he's never received a complaint regarding Lawson and his work at Stone.
"At Westfield High sporting events, former students at Stone still seek him out and take the time to tell him how they miss him," wrote Fulton. "Steve has had a positive impact on the children and families of the Sully community — probably more than he would ever humbly admit — and his efforts and dedication deserve recognition."
As he received his plaque, Lawson said, "I wasn't sure I'd like working in a middle school, but the kids grew on me. They're fun to work with and I thank you for this honor."