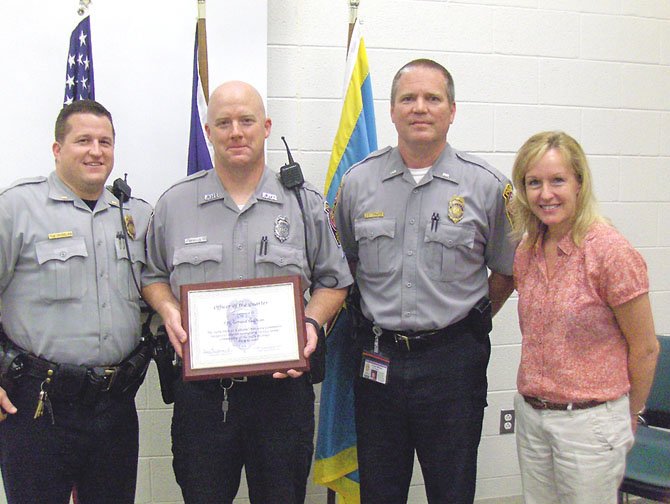 Centreville — Whether trying to outsmart a shooter or figure out where a lost child might go, Fairfax County police PFC Gerald Sullivan gives the effort his all. As a result, he was recently honored as the Sully District Station's Officer of the Quarter.
"Everybody calls him 'Sully,' and he's a great guy," said 2nd Lt. Ryan Morgan at the June 15 meeting of the station's Citizens Advisory Committee (CAC). "He's a West Point graduate and was a captain in the Army, and I knew it was only a matter of time until he'd be up here [receiving an award]."
Morgan wrote Sullivan's nomination letter on behalf of the station's Evening B-Team. Included in it were details of a rescue Sullivan made after officers were called to Centreville's Paddington Lane area, west of Stone Road.
A grandmother had taken her 5-year-old granddaughter for a walk on a gravel trail behind their home, when the little girl took off running and went into the thick underbrush. The elderly woman was physically unable to catch up to the child and eventually lost sight of her.
"Horrified at the situation, the grandmother went home to find the child's mother," wrote Morgan. "The mother was panicked, knowing the dangers of the wooded area behind her home — including a swift-moving creek, strangers and the thought of her child being lost."
As officers mobilized and a helicopter hovered overhead, Morgan wrote, "Sullivan walked the trail that meanders behind the mother's home. He said he started to look in places 'he would go if he was 5 years old.' Sullivan decided to search the creek area, specifically the [portion] of the creek that travels under Route 29. There, he spotted the child waist-deep in freezing cold water."
"Without hesitation, Sullivan entered the creek and scooped up the little girl," continued Morgan. He then carried her to safety and reunited her with her family.
Morgan said Sullivan never complained about being cold or tired. Only afterward did he ask permission to return to the station so he could change his soaking-wet clothes. Wrote Morgan: "I believe the actions PFC Sullivan took that day embody his character as a Fairfax County police officer."
Furthermore, as the Police Department has begun a new way of responding to active shooters and eliminating hostile threats, Sullivan's taken on an additional responsibility.

It's called PACOP (Paramilitary Attack Counter Offensive Plan) and will soon be distributed and implemented to the Nation Capital Region as a means of stopping people in the process of harming others. The Sully District Station has been chosen to pilot PACOP training, and Morgan selected Sullivan to be the Evening B-Team crew leader.
"[It's] an awesome responsibility, as the leader's primary purpose is to take other officers into harm's way, strategize and use tactics to stop another's aggressive actions," wrote Morgan. "Sullivan possesses the leadership abilities and the competence needed to make sound decisions and give police the advantage."
Since the beginning of training earlier this year, added Morgan, Sullivan has enthusiastically embraced the opportunity to serve in this new capacity. He also coordinated the training for other officers on the squad to prepare them for their roles, as well. Morgan noted that Sullivan's military-officer background has proven to be "a great base of knowledge, coupled with his sound knowledge of police practices and policy."
"There are many great officers at the Sully District Station that perform great deeds and are deserving of recognition," wrote Morgan. "I'm fortunate enough to have a full squad of highly capable officers on the Evening B-Team. [But] the first quarter of the year belongs to Sullivan and I believe he should be recognized for his efforts."
"Through leadership, reasonableness and compassion, [he's] proven to be a great asset to Fairfax County," continued Morgan. "There are few officers that can match the professionalism and character exhibited by him on a daily basis, and it's been a pleasure working with him."