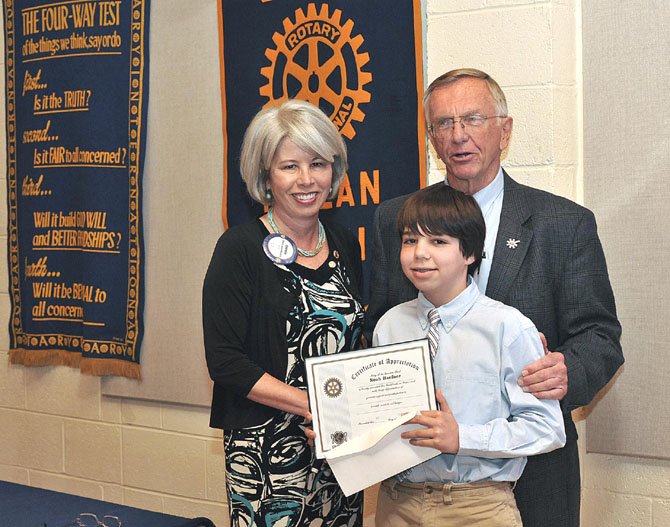 McLean — On April 3, the Rotary Club of McLean honored Noah Haefner, a seventh grader at Longfellow Middle School, for his efforts to support the McLean Stop Hunger Now project. Noah and his fellow Student Council representatives raised more than $2,600 for the next meal packaging day scheduled for Nov. 10, 2012 at Lutheran Church of the Redeemer in McLean.
Noah, the son of Bruce and Paula Haefner of Vienna, received a Certificate of Appreciation from McLean Rotary President Cherry Baumbusch and Bob Hahne, a McLean Rotarian and an organizer of the McLean Stop Hunger Now project.
The McLean Stop Hunger Now project has packaged more than 450,000 meals over the past 18 months, and plans to package an additional 250,000 meals at the November 2012 event. Organizers are looking to raise at least $62,500 (or 25 cents a meal).
Stop Hunger Now, an international nonprofit organization, distributes meals worldwide to address the disaster of 25,000 people dying every day from hunger and hunger-related diseases. Anyone interested in assisting in the McLean Stop Hunger Now effort can contact Bob Hahne at 703-790-5319 for more information.