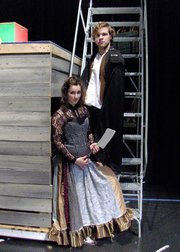 Combine murder, revenge, pies and music, and the result is Fairfax High's upcoming play, "Sweeney Todd." The musical thriller takes place in Victorian London during the Industrial Revolution and will be performed over two weekends.
Show times are Friday-Saturday, April 20-21, at 7:30 p.m.; Sunday, April 22, at 2 p.m.; Friday-Saturday, April 27-28, at 7:30 p.m.; and Sunday, April 29, at 2 p.m. Tickets are $10 at www.fxplayers.org, $15 at the door. Because of the story's content, it's rated PG-13.
It's Fairfax's Cappies entry and features a cast and crew of 40, plus a live pit orchestra. And except for spring break, they've been rehearsing seven days a week since February.
"When I first announced this show last year, I told them anyone who wanted to be in it better get a vocal coach," said Director Wendy Knight. "Not only do they have to be good singers, they have to be good musicians so they can analyze, dissect, count and really think about the music."
"This is one of the toughest musicals because Steven Sondheim's music is very complex, with lots of disjointed harmonies and complicated rhythms difficult to count," continued Knight. "We've been working on harder and harder music since 2009 to get them ready for this – and over all, I think we've accomplished it."


SENIOR REGGIE HEROLD plays the title role. "Sweeney Todd was convicted of a crime he didn't commit and was sent to a penal colony in Australia for 15 years," said Herold. "He escapes, is shipwrecked and then found and returns to London under a different name so he won't be re-captured and sent back. He used to be a barber with a stable income, and he expects his wife and teenage daughter, Johanna, to be waiting for him."
Instead, Todd finds Mrs. Lovett, whose now-dead husband used to be his landlord. She tells him his wife is dead, so he seeks revenge on the judge who sentenced him and later adopted Johanna as his ward.
"Todd used to be happy, with a good life; but now he's hard and disillusioned, full of hatred and depression," said Herold. "He's a broken, angry man. It's a great role because he's a complex character you really have to try to embody." Herold's favorite song is "Epiphany" because, while singing it, he runs all over the stage and even gets onto his knees. He said the audience will love the show's talented cast and "gorgeous Sondheim music."
Portraying Mrs. Lovett is junior Alexandra Nicopoulos. "She's a working-class woman who owns a pie shop," said Nicopoulos. "She bakes the worst pies in London because she can't afford the meat for them. But she's desperate to sell them because she needs the money. She's always been in love with Sweeney and, when he returns, she comes up with a plan to help her business and help him get revenge, at the same time."
Nicopoulos wanted this part because "Sondheim's music is amazing and this character is so dynamic and funny. I can do so many different things with it and challenge myself more as an actress and vocalist." Her favorite number is "A Little Priest" because "it's the funniest song in the show. I sing it with Reggie and we make something wrong and immoral comedic."
She said the play will also be fun to watch because of its set, costumes and technical aspects. "People will also like the elaborate plot and the relationship between these contrasting characters," said Nicopoulos. "It'll be exciting for them to be part of their lives."
Senior Harrison Weger plays Anthony Hope, a young sailor in the Royal Navy. "He befriends Sweeney after rescuing him at sea, and our storylines eventually intertwine," said Weger. "Mine is about finding love and Sweeney's is more about revenge."
"Anthony is hopeful, happy and lighthearted," continued Weger. "He looks toward the future, but enjoys living life to its fullest. He liked having adventures in the Navy; but when he meets Johanna in London, he falls in love and wants to marry her and settle down. Much of Anthony's character is interpreted through the music. This is an incredibly dark show, so Anthony and Johanna are the lighthearted relief.
Weger especially likes the "Johanna's Act II Sequence" number because "it's absolutely beautiful, with a soft calming melody. Few high schools do this show because the music's so demanding. So the audience will be impressed by it, plus the epic storyline where every detail is important. It's challenging, but worth every sweat and tear."
Playing Johanna is sophomore Marissa Kovach. "Johanna is 16, held captive by the judge and not allowed outside, so she has no one to comfort or care for her," said Kovach. "She's happy when she's with Anthony, but worried the judge will catch them. It's fun playing her because she's more serious and dramatic than my past roles and she goes from innocent to crazy to sane again."
Kovach likes the song, "Green Finch & Linnet Bird," because it showcases her singing range, tells about Johanna metaphorically and has "really awesome moments." She says the audience will like this play's dark comedy and how well the actors researched their roles.


THE TRIPLE-DECKER SET is made with metal scaffolding, and the actors at the top will be 15 feet in the air. The acting ensemble on it will physically embody what's happening in the music.
Almost all the costumes are made from scratch by the same team that won a Cappie for the costumes in 2010's "Chicago" – Maddy Atteberry, Sarah Hix and Chi Chi Ramos – plus Caitlin Tuohy, Haley Reynolds and Victoria Ciavarella.
"I've added extra dance sequences to help the audience visualize the music," said Director Knight. "The students have worked really hard and embraced the idea that it's an ensemble show. People aren't going to want to miss it –they'll be talking about this show for awhile."