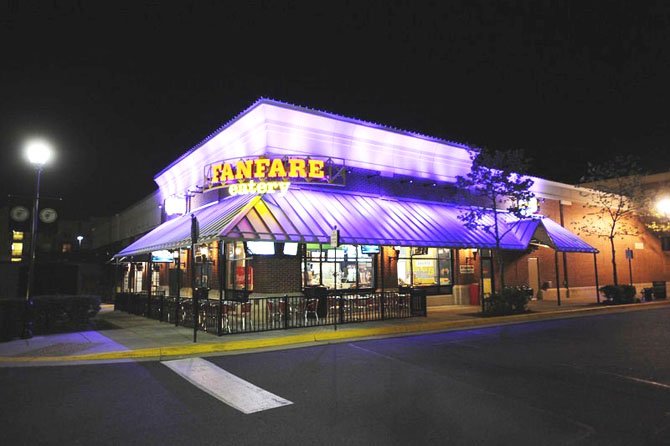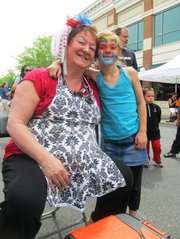 A lot of feathers were ruffled during the grand opening celebration of FANFARE, Fairfax Corner's newest sports-themed eatery.
But feather-ruffling was just part of the fun, as Talon, D.C. United's mascot, and Slapshot, the official mascot of The Washington Capitals (both proud bald eagles) encouraged children, parents and anyone else to tousle their impressive plumage, or just hang out with them at FANFARE's grand-opening party on Saturday, April 14.
In addition to hanging out with feathered friends, guests could get a massage, have their faces painted by artist Arla Albers, play games, win prizes and dance to a DJ during the all-day party. Monument Wall Way was closed for the event, and firefighters from Fairfax Center Fire and Rescue Station 40 gave tours of their fire truck.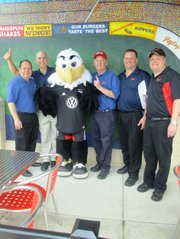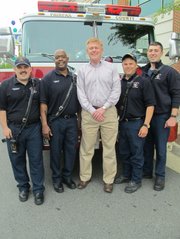 "We've had at least 300 people here today. We're beating the drum to let the community know this is a fun, fast, family-friendly restaurant," said Jeff Newman, one of the eatery's three local founders, who also launched the popular Glory Days Grill in Burke 16 years ago.


LIKE GLORY DAYS GRILL, Newman said FANFARE Eatery will continue the company's commitment to the community by partnering with nearby schools and sponsoring community events. In the past year, the company has raised and contributed more than $307,000 to community events, local teams, and charities, including Lorton's annual Monopoly Tournament and a fundraiser for the West Springfield High School dance team.
"We have a strong commitment to the community, to creating jobs, and to presenting a unique and family-friendly sports restaurant to our guests where they can enjoy great food and good sports," Newman said. "Our hope is that FANFARE is embraced as strongly by the community as our Glory Days Grill restaurants have been." He added that since the first Glory Days Grill opened in Burke, the company has launched 20 additional restaurants in Virginia, Maryland and West Virginia and employs 1,700 people.
Newman said the fast-casual restaurant's food offerings are similar to Glory Days Grill, featuring fresh Angus burgers, jumbo chicken wings and all-beef hot dogs. FANFARE's decor combines the nostalgia of a vintage stadium concession with modern conveniences such as digital menu boards, a self-service kiosk, and a Coca-Cola Freestyle® soda fountain. The restaurant also features a 40-seat outdoor patio; multiple TVs located on the interior and exterior, a TouchTunes Jukebox, and serves a limited selection of draft beer, wine and margaritas.


DURING FANFARE'S HALFTIME SHOW, Supervisor John Cook (R-Braddock) helped the owners and staff cut the ribbon on the new restaurant. Fairfax Corner Shopping Center is now part of the Braddock district after last year's redistricting.
"We want to encourage businesses like this," Cook said, after cutting the ribbon. "The owners are creating 40 jobs and injecting money into the economy. That's how we fund the budget."
While funding Fairfax County's proposed $6.7 billion fiscal year 2013 budget is a hot topic in many circles, some of the younger guests at FANFARE's kick-off just wanted to enjoy the party.
"The hot dogs are really good," said Aiden Ramos, 5, of Oakton, who also got a peck and a hug from Talon.