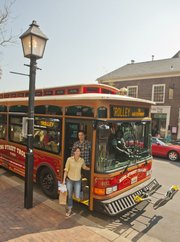 Alexandria's free King Street trolley service gets clean and green with the launch of an all-new fleet of hybrid trolleys on April 22. Owned by the City of the Alexandria and operated by Alexandria Transit Company's DASH system, the clean diesel hybrid electric trolleys consume less fuel, emit fewer pollutants, and will require less maintenance. Riders will notice new design features including bike racks, low floor design (no steps), wheelchair ramp instead of a hydraulic lift for easier access, plus a smoother ride, quicker acceleration, reduced engine noise and a more spacious and accessible interior.
The City purchased the five new trolleys with American Reinvestment and Recovery Act Stimulus funds.
On a trolley rider survey conducted March 22 to April 4, 72 percent of the respondents stated the trolley increased the number of restaurants and businesses that they used on that particular day; 26 percent stated the trolley did not make any difference in the number of restaurants and businesses they used; and 1 percent stated the trolley decreased the number of restaurants and businesses they used.
The Alexandria Convention & Visitors Association distributes the official Alexandria Visitors Guide and Map on the trolley to expose riders to local businesses and attractions in the area. Riders can access trolley schedules and information at VisitAlexandriaVA.com, a mobile-ready website.