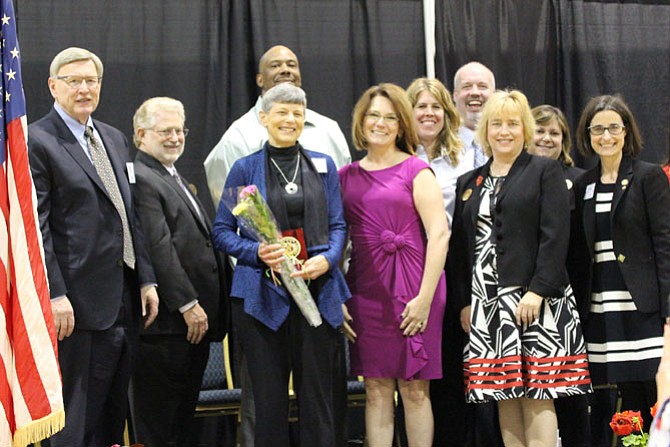 The Town of Herndon is seeking nominations for its 2018 Mayor's Volunteer Appreciation Awards. This is an annual celebration of citizens and businesses who, according to the town website, "dedicate time, talent and treasure toward the community in which they live and work."
In 2017, 430 volunteers from 35 different service organizations and groups were named Outstanding Volunteers and honored for their service to the Town of Herndon, three individuals received Distinguished Service Awards, and one business received the Distinguished Corporate Service Award. This year, awards will be presented at a dinner in the recipients' honor at the 34th Mayor's Volunteer Appreciation Night scheduled for April 15, 2018, at the Herndon Community Center.
According to the Town of Herndon: "Outstanding Volunteers should have provided a minimum of 100 hours of donated community service or support during the past year. Their contributions need not have been in a leadership or chairman role — just noteworthy and of extra and consistent effort. This service should have been performed in and/or provided direct benefit to the Town of Herndon.
The Distinguished Volunteer is the highest level of recognition awarded in the town, presented to those individuals who have demonstrated exemplary levels of service over several years or in projects, which required significant levels of leadership, service, and effort. Candidates should have displayed extensive community-wide volunteer support in sports, social services, arts, conservation, safety, or other community activities or organizations. Individuals should have displayed a commitment to volunteering with a minimum of two years of service and demonstrated a willingness to assume multiple responsibilities and/or projects involving considerable leadership, time and effort.
To qualify for the Distinguished Corporate Service Award a business must promote the Town of Herndon as a great place to live and work, and have influence on making the town a better place for all citizens through innovation, policies, and practices that support and encourage volunteerism, for at least the past two years. "
For more information about the awards or to nominate an individual or business, visit herndon-va.gov/government/mayor-town-council/volunteer-appreciation. All nominations must be received by Friday, March 2, 2018, for consideration.
Return Nominations via US mail, email or fax to Herndon Department of Parks & Recreation Attn: Kimmie Alcorn, 777 Lynn St., Herndon, VA 20170 Telephone 703-435-6800, ext. 2119, Fax: 703-318-8652.