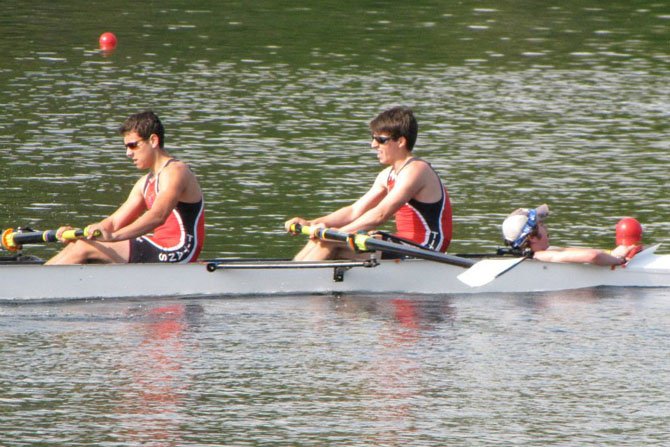 For the second time this season, the girls' freshman 8 have brought home a victory for the T.C. Williams crew team, crossing the finish line nearly 10 seconds ahead of the competition at the Noxontown Regatta in Middletown, Del., this past Saturday, April 21.
The T.C. freshman girls finished with a time of 5:21.6, handily defeating Holy Spirit (N.J.), which finished with a time of 5:31.2. The freshman victory was their second of the season — they also won top honors in their first race at Noxontown on March 31. Members of the freshman 8 include coxswain Kathrina Policarpio and rowers Maeve Bradley, Kyra McClary, Maura Nakahata, Claire Embrey, Lynn Stevens, Ana Diaz, Rachael Vannatta and Zoe Gildersleeve.
In other events at the Noxontown Regatta this past Saturday, the T.C. Williams girls' novice 8 took home second-place honors in their race, finishing — in a reversal of the freshman 8 contest — eight seconds behind the Holy Spirit novice girls with a time of 6:03.8.
Also coming in second on Saturday — but in a different state, and in a margin that could be measured in the blink of an eye rather than a few ticks of the clock — were the boys of the T.C. Williams varsity 4. After winning their heat at the Smokey Jacobs Regatta on the Occoquan Reservoir in Virginia, the defending state champion Titan rowers crossed the finish line in the final with a time of 5:14.22 — just .62 second behind winner Woodbridge.
In addition to the boys' varsity 4, the T.C. Williams boys' freshman 8 also came in second place at Smokey Jacobs, crossing the finish line with a time of 5:07.84 behind the Generals of Washington-Lee. Other strong performances by T.C. rowers at Occoquan were turned in by the boys' junior 4, the boys' second 4, the boys' novice 8 "B" boat, and the girls' novice 8 "A" boat, all of which took home third-place honors on the day.
The T.C. Williams crew team returns closer to home this coming weekend for the Charlie Butt Regatta, a contest that will not only see the Titan rowers compete on the Potomac River just off the shores of Georgetown, but compete against some of the top rowing teams in and around Washington, D.C.
The T.C. Williams crew team is guided by boys' head coach Pete Stramese and girls' head coach Mercedes Kiss. For race schedules and more information on the program, visit www.tcwcrew.org.