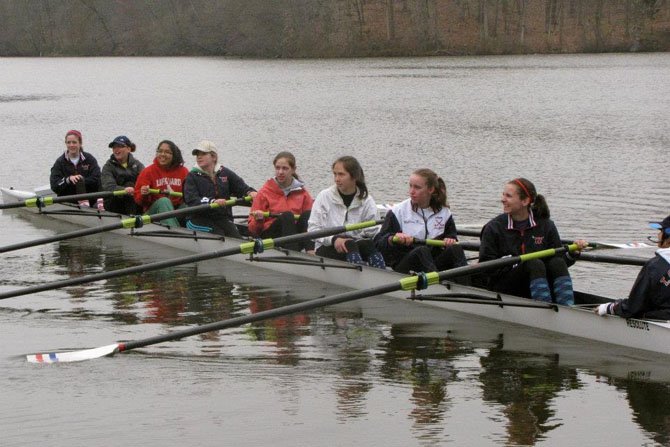 The T.C. Williams crew team traveled to the St. Andrew's School in Middletown, Del., on March 31 to compete in the Noxontown Regatta, a contest that saw the Titan rowers go up against some of the best boats in the Mid-Atlantic region and come home with three victories by the end of the day.
Leading the way for TC were the boys' varsity 4, the girls' freshman 8, and the boys' lightweight 8, which not only won first place in each of their respective races, but did so by sizable margins, as well. The TC boys' varsity 4 — which won the Virginia state championship last year — cruised to victory with a winning margin of 33 seconds, while the girls' freshman 8 crossed the finish line 19 seconds ahead of their nearest competitor. The TC boys' lightweight 8 captured top honors nine seconds ahead of the competition.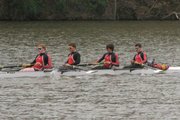 Members of the boys' varsity 4 include coxswain Mark Comey and rowers Greg Montenegro, Henry Anderson, Madison Weitekamp, and Cameron Pattisall. Weitekamp and Pattisall were also members of last year's state championship boat. Competing on the girls' freshman 8 are coxswain Kathrina Policarpio and rowers Maeve Bradley, Kyra McClary, Maura Nakahata, Claire Embrey, Lynn Stevens, Ana Diaz, Rachael Vannatta and Zoe Gildersleeve. Members of the T.C. boys' lightweight 8 include coxswain Brian Comey and rowers Cody Brooks, Ethan Vannatta, David Salmons, Constantine Ivanis, Mitchell Youmans, Chris Porter, Ben Blakeslee and Chris Kidd.
In addition to these victories, several other T.C. Williams boats took home second- and third-place finishes in their respective races for the day. Second-place honors were awarded to the T.C. girls' varsity 4 "B" boat and the girls' third 8, while third-place honors went to the T.C. girls' varsity 8, the girls' varsity 4 "A" boat, the girls' novice 8, the boys' freshman 8 and the boys' novice 8.
Other high schools competing in the Noxontown Regatta this past Saturday were The Lawrenceville School (N.J.), St. Augustine College Prep School (N.J.), Monsignor Bonner High School (Pa.), Archbishop Prendergast (Pa.), Washington-Lee and St. Andrew's.
The T.C. crew team's next event is Saturday, April 14, when the girls return to St. Andrew's and the boys travel to Occoquan for the Darrell Winslow Regatta.