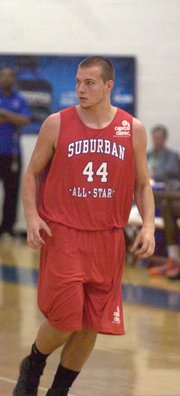 Alexandria — Sam Edens came off the bench and rarely got to shoot. Sarafina Arthur-Williams wasn't relied upon to score.
Two of the best basketball players Churchill has to offer stepped outside of their usual Bulldog roles during the 39th Annual Capital Classic on April 21, but that didn't stop each from having an impact during the all-day all-star event at T.C. Williams High School in Alexandria.
The Capital Classic offered fans two girls' games in the afternoon, followed by a pair of boys' games in the evening. Edens competed in the first boys' game as a member of the Suburban All-Stars, which defeated the District All-Stars 109-100. Wearing his usual No. 44, Edens was one of three Montgomery County athletes to suit up for the Suburban All-Stars, along with Springbrook's Demetric Austin and Sherwood's Scott Bolen. Montrose Christian's Kevin Larsen competed for the District All-Stars, scoring 22 points on his way to game MVP honors.
Edens, the Bulldogs' leading scorer at more than 15 points per game during their run to a berth in the region final, didn't seem affected by coming off the bench. Despite limited touches, Edens buried a trio of 3-pointers and finished with 11 points.
"I knew I had to stay warm," Edens said. "I'm a shooter, so [when I] come in, I'm going to get an open shot I'm going to make it."
Eden's first 3-pointer came from the left wing early in the second quarter, giving the Suburban All-Stars a 29-25 lead. Moments later, he knocked down another from well behind the top of the arc, giving his team a 34-29 advantage. His final 3-pointer came from the left corner in the fourth quarter, and he finished his scoring with a steal and a layup with less than six minutes remaining.
"I was getting open shots and my open shots were falling," Edens said. "My teammates did a good job of finding me."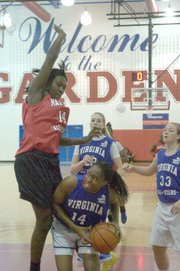 The District All-Stars pulled within six late in the game, but the Suburban squad held on for the win.
"Being in an all-star game is fun anyway," Edens said, "but getting a win is always a good thing."
Arthur-Williams played in the opening contest — a public school matchup between the Maryland All-Stars and the Virginia All-Stars. Wearing No. 14, Arthur-Williams started alongside Paint Branch's Brigette Ocran, Northwest's Carla Batchelor and Gaithersburg's Jackie Jackson and Colleen Marshall. The two teams had one practice apiece prior to the game, so it took awhile for players to settle into a groove. The Virginia All-Stars started to build a lead midway through the first quarter and cruised to a 74-49 victory.
"It was exciting because all the people I know and I've never played with played together," Arthur-Williams said. "… I know them and I play with half of them in AAU, but the fact that we haven't played together for a year or so, we were kind of off."
Arthur-Williams didn't get many offensive opportunities. Instead, the UNC-Greensboro-bound post player took care of the dirty work, setting screens and grabbing seven rebounds.
"It felt like AAU all over again," Arthur-Williams said. "In AAU we have a specific job and everyone does their job. For Churchill, it's more like, you're the good player on your team so this is what you have to do."