The Churchill girls' basketball team's 2011-12 season began with a deep, talented roster and high expectations. It ended with a six-point fourth quarter amid the absence of composure.
Facing No. 4 seed Blair in the 4A West Region quarterfinals on Feb. 27, No. 5 Churchill led by five points at halftime and by as many as eight in the second half. But the Blazers battled back, using a stifling defensive effort to outscore the Bulldogs 19-6 in the fourth quarter en route to a 60-47 victory at Blair High School.
A transition jumper by Katie Jenkins gave Churchill a 41-37 advantage with 1:05 remaining in the third quarter. But the Bulldogs managed just two field goals during the final 9-plus minutes and turned the ball over seven times in the fourth quarter.
"I just think [in] the second half we lost our cool, lost our composure a bit and they put the pressure on and got a good streak going," Churchill head coach Kate McMahon said. "They had a lot of balls drop and ours weren't. When you get the momentum and a little bit of luck, it's sure not good to be on the other side of it."
One year after reaching the 2011 region final four, Churchill won 18 games — including a 13-game win streak — and a share of the 4A South Division championship during the regular season, and even spent some time ranked in the Washington Post's top 20. The Bulldogs earned their 19th win against Quince Orchard in the opening round of the playoffs on Feb. 24, but couldn't put away the Blazers three days later.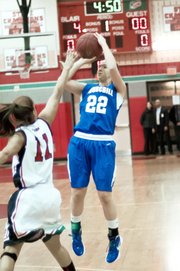 "I'm definitely not disappointed in our team," junior Shira Racoosin said. "… It's more like a shock. I never thought something like this would happen to us. This year was about states."
Racoosin, a guard with the athletic ability to create her own shot, scored a team-high 13 points, including a 3-pointer to give the Bulldogs a 40-32 advantage early in the second half. Racoosin figures to be a key part of the Bulldogs' plans next season, if not the team's No. 1 scoring option.
"Shira, I still like one-on-one on anyone," McMahon said. "I don't think we got enough situations where she was isolated today — and she was hitting outside. When she can hit outside and go inside, that just does so much for us."
Churchill also got solid contributions off the bench from Japria Karim-Duvall and Erica Lindsay, both of whom figure into Churchill's future. Karim-Duvall, a freshman, scored 10 points and tallied three steals. Lindsay, a junior, scored six points and grabbed six rebounds.
"Japria, she's just a freshman, she's going to be great," McMahon said. "We've got [more] three years of her. She plays big in all the big games. Erica, I want her to have a full healthy season — she hasn't had one yet. She can really do some damage in the post and she's a good outside shooter."
Jenkins, a junior guard, who McMahon said was the team's most improved player, scored nine points while displaying her ability to knock down perimeter shots.
Meanwhile, seniors Sarafina Arthur-Williams, Kim Deausen and Jill Beauregard each played in their final game for Churchill. Arthur-Williams developed into one of the top players in Montgomery County, routinely turning in a double-double in the post. She scored seven points and grabbed eight rebounds against Blair and will play for UNC-Greensboro next season.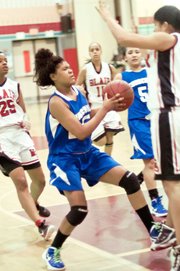 "I'm really proud of all my [basketball] family," Arthur-Williams said. "They're my best friends."
Deausen played point guard for Churchill and was one of its top defensive threats.
"She's a phenomenal defender and a truly selfless point guard," McMahon said. "Some of the times I wanted her to shoot more, but she makes all the right decisions."
McMahon called Beauregard the team's best all-around player who saw time at both shooting guard and power forward due to injuries.
While Churchill will lose a talented trio, the Bulldogs have plenty of ability coming back, including freshman point guard Izzy Wu and 6-foot-4 junior Alaine Thronson, who, according to McMahon, improved her game by working against Arthur-Williams.
Expectations will likely be high again next season, when the Bulldogs will look to improve on this year's postseason finish.
"Personally, I've learned so much from our seniors," Racoosin said. "Each and every one of them means so much to me and they've all taught me different things. It's definitely going to be hard losing them; I'm not going to lie about that. But we'll be back next year. We have strong seniors for next year. We have [talented] freshmen; we have a wide range of players. I think we'll be OK and I think we'll be back."