Potomac — Churchill boys' basketball head coach Matt Miller could see it coming. He tried to warn the Bulldogs but it was too late.
Wootton guard Willis Ibeh stood wide open in front of the Churchill bench during the first quarter of the teams' Jan. 27 matchup when Miller shouted "shooter!" in an attempt to get the Bulldogs' attention. Ibeh, Wootton's most potent offensive threat, made Churchill pay for leaving him open, burying a 3-pointer. The senior spent the rest of the first half lighting up the Bulldogs, scoring 21 of Wootton's 25 points while an animated Miller pleaded with his players not to lose track of No. 3 in red.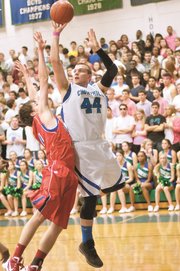 "He had a huge first half and single-handedly torched our defense," Miller said, "and had me looking like a mad man on the sideline."
Churchill entered halftime trailing by one. In the second half, the Bulldogs paid better attention to their coach.
After Ibeh's monster first half, Churchill neutralized the Wootton sharpshooter, holding him scoreless for the final 16 minutes as the Bulldogs ran away with a 61-43 victory at Churchill High School. Led by junior Dominique Williams, several Bulldogs focused on denying Ibeh the ball in the second half. As the game progressed, Ibeh rarely looked to shoot. Williams knocked down a 3-pointer for the first points of the third quarter and Churchill led the rest of the contest.
"Sometimes [Williams'] name doesn't pop up as a 20-point scorer," Miller said, "but if you look at the other team's best player, he does a pretty darn good job on him."
Williams, a standout football player and son of former NFL defensive back Willie Williams, said he enjoys the assignment of defending an opponent's best player.
"In the first half, we were losing [Ibeh] a lot and we let him get too many open shots," Williams said. "In the second half, [Miller] told me to stay tight on him, make sure he doesn't touch the ball. I feel great [when I get that assignment]. It gives me a lot of confidence and it makes me want to go out there and work hard for [Miller]."
Offensively, Churchill received double-digit performances from the senior trio of Sam Edens, Kyle Edwards and Thomas Geenen. Edens scored a team-high 18 points and buried a trio of 3-pointers, including one in front of a packed Churchill student section that gave the Bulldogs a 42-34 lead late in the third quarter.
Edwards finished with 12 points, including a pair of three-point plays in the fourth quarter. Geenen scored 10 points, grabbed 20 rebounds and dished out five assists.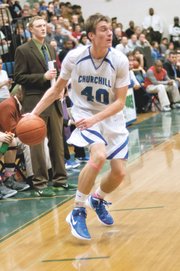 "I just thought he was a floor general, floor leader," Miller said about Geenen. "We're going to miss him next year when he graduates. He does some great stuff."
Along with a two-handed dunk to cap the evening's scoring, Geenen drained his second 3-pointer of the season — a shot that ensured he played up to his friends' expectations.
"My friends have been pressuring me to shoot the ball," Geenen said. "They told me tonight if [I] didn't shoot it goes down as a loss in their column even if we won the game. I tried to please them, too."
"[Willis Ibeh] had a huge first half and single-handedly torched our defense, and had me looking like a mad man on the sideline."

— Churchill boys' basketball coach Matt Miller
Last season, Churchill split with Wootton, losing at home. With Friday's victory, the Bulldogs completed a regular-season sweep of the rival Patriots.
"It feels really good," Edens said. "Last year there was sort of a sour taste in our mouth losing at home, so we wanted to get that out of there."
Churchill followed the win over Wootton with a 49-41 victory against Richard Montgomery on Jan. 30, which clinched the 4A South Division championship for the Bulldogs — their second consecutive district title after a drought of more than 30 years.