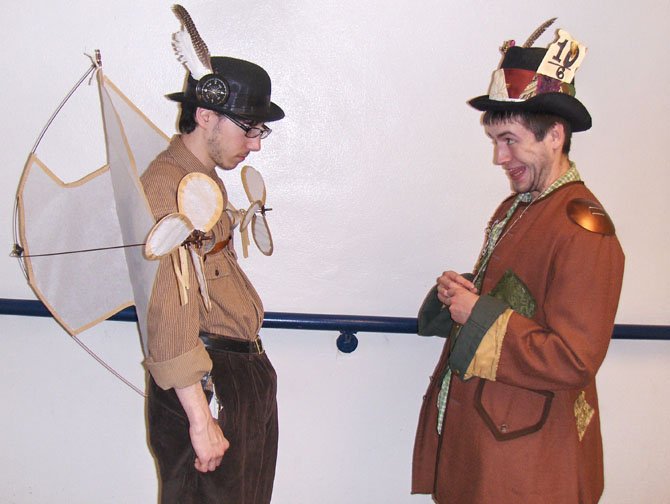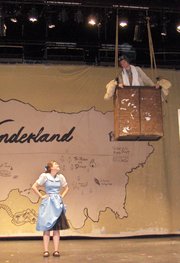 To say Woodson High's play, "Alice in Wonderland in Steampunk" is something special would be a huge understatement. Extraordinary would be more appropriate since it features original music, actors suspended in mid-air and the accomplishments of a tech crew that's worked on the show's technical design and concept since November 2011.
Besides a fanciful and spellbinding story, said Director Terri Hobson, "Visually, it's going to be beautiful. The music, flying, costumes, acting, special effects and puppetry – it's all here. There's something for everybody."
It's also not the usual production of "Alice" because this one is done in steampunk – a look and lifestyle based on the Victorian era and its perceptions of the future, similar to those of authors Jules Verne and H.G. Wells.
"The steampunk is carried out through the use of gears, leather, clockworks and mechanisms in the costumes and the set," said Hobson. "We re-purposed items by taking things that already existed and making new things out of them. For example, the soldiers' hats were made from cereal boxes, bottle caps and chains, and the White Rabbit has a clock face and gears on her hat on pocket watches all over her outfit."


IT'S WOODSON'S CAPPIES ENTRY and boasts a cast of 48 and a crew of 97. "Technically, it's such a complicated show," said Hobson. Senior Arjun Baxter composed all the music for the background, underscoring and transitions, as well as the finale. Said the director: "He's a very talented young man."
Hobson praised her two student directors, Sophie Friedman and Marilyn Minton. Regarding costumers Ana Mendelson and Abby Deatherage and student technical director David Willmore, she called them "incredibly gifted kids" and said she chose this show "to give them something that would be challenging for them."
Woodson is using special flight rigging from the professional company, Flying By Foy, so characters will be able to dangle above and fly across the stage. The backdrop is a map of Wonderland, and the scenes take place in many different settings throughout this fantasy realm.
"It's really the closest adaptation of Lewis Carroll's novel," said Hobson. 'It's the stories, 'Alice in Wonderland' and 'Alice through the Looking Glass," and it's Alice's dreams. The audience will see all the traditional characters in a wonderful cast. Some characters are only in one scene, so the kids have worked hard to develop them and make them really interesting."
Portraying 7-year-old Alice is senior Molly Jacob. "She's a curious girl, sweet and gentle, but she also loves being in charge," said Jacob. "So sometimes, her spunky side comes out and she can be bossy. She's not afraid of trying new things. She wants to know what the world's like; so one day, she goes on an adventure through her mirror, the looking glass."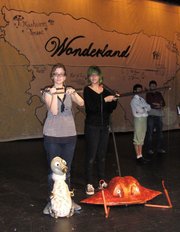 As Alice, Jacob likes interacting with so many different characters. And, she added, "When I was a child, I wasn't as adventurous or willing to do new things as she is, so it's like reliving my childhood in a different way." She says the audience will appreciate both the story and the technical aspects which are "unusual for a high-school production."
Freshman Laura Baker plays the Dormouse, a puppet who lives in the Mad Hatter's and March Hare's teapot. "I'll speak in a little voice and will be moving my mouse puppet," she said. "My character's pretty saucy – he pokes fun at Alice; otherwise, he's asleep. Playing a nonhuman changes the way you move, and you have to make your posture small. But the mad tea party scene is so iconic, I'm glad to be part of it."
Baker said the audience will enjoy going on Alice's wild journey with her and seeing her grow. "They'll definitely have opinions about all the characters," she said. "And the steampunk-style costumes aren't something they'll expect."
Senior Peter Moses plays the March Hare, calling him "a street-urchin rabbit that's beyond insane. He's pretty much stuck having tea with the Mad Hatter forever because time was killed. So I spend the entire time making strenuous, ridiculous, outrageous faces – which is great fun for the last production of my senior year."
"My face is stretching and twisting and my eyes are crossing," continued Moses. "I get to be as crazy as I want to, so my insanity has no boundaries – nor does my face. I'll also be screaming, talking in a silly voice and causing mayhem everywhere." Describing this show as "its own archetype," he said the audience will love its "amazing soundtrack and all the funny and peculiar moments."
Portraying the Mad Hatter, senior C.J. McCracken calls him "the Charlie Sheen of imaginary characters. He was once a wealthy hatter, but his mercury addiction took him to insanity and homelessness to the point where he befriended a random rabbit in the woods. In Wonderland, he personifies time and believes it's out to get him and has stopped. So he has this tea party, again and again."
This is McCracken's biggest theatrical role, but he loves it because it's challenging and "there are no limits on what you can do with a character like this – it's go big or go home." Describing "Alice in Wonderland" as a "one-of-a-kind theater experience," he said, "It takes every convention, throws it out of a window and runs over it with an 18-wheeler – but it still works as a show."


SHOW TIMES are Friday-Saturday, April 27-28 and May 4-5, at 7:30 p.m., plus Saturday, April 28 and May 5, at 2 p.m. Tickets are $10/door, $8 presale at www.woodsonalice.com and $5/senior citizens. Seats may be reserved online.