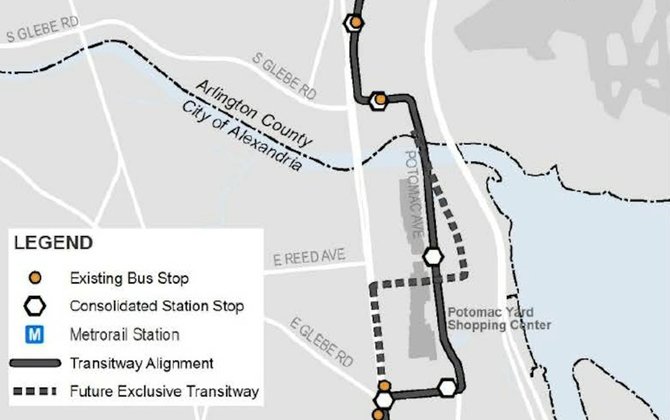 Audio clip
Alexandria Mayor Bill Euille
Audio clip
Alexandria City Councilman Frank Fannon
Audio clip
Alexandria City Councilwoman Alicia Hughes
Document
Document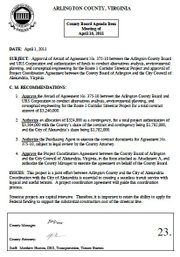 Tensions between Alexandria and Arlington are growing along Route 1, where city and county leaders are moving in different directions about how the jurisdictions want to create a high-capacity transit corridor.
At issue is $40 million to $120 million worth of federal funds that could help pay for upgrading Alexandria's bus-rapid transit system to streetcars. The money, which could be delivered though the federal New Starts program, is tied to completion of the environmental analysis. Back in 2010, Alexandria and Arlington struck a deal to share the cost of the study.
Now Arlington is backing out of that agreement. City Council members must determine if they want to pay for part of the study that Arlington agreed to fund before changing course.
"There's been no dialogue between myself as the mayor and the chair of the Arlington Board of Supervisors on this topic at all," said Mayor Bill Euille Tuesday night. "That's not how you do business."
Euille said Arlington County Board members should have had the courtesy to sit down with Alexandria City Council members and explain why they had changed course. Instead, Euille said, elected officials learned about the decision secondhand. He called for a joint meeting between County Board members and City Council members to talk about how the neighboring jurisdictions should proceed with the Crystal City Potomac Yard transit corridor.
"I think that it is a show of bad faith on the part of the Arlington County Board," said Councilwoman Alicia Hughes. "That is not the way you operate in a regional cooperative."
THE JOINT STUDY is an idea that dates back to 2010, when the Arlington County Board offered to include Alexandria as a full participant an environmental analysis setting the stage for streetcars. Documents from the time show that Arlington leaders sold the opportunity to Alexandria as a way to lay the groundwork for federal funding that could be used to purchase streetcars. City leaders saw the $1 million appropriation as a way to save money by combining efforts.
"Given Arlington's head start in these matters, Alexandria can only benefit by joining in to an ongoing process rather than waiting a few years and starting its own studies later," wrote former City Councilman Tim Lovain, chairman of the Northern Virginia Streetcar Coalition, at the time. "It would be disastrous to public opinion of our fair city to have people get off an Arlington streetcar, cross Four Mile Run, then take a bus in Alexandria."
Now that disaster could be on the horizon. When the first five-mile stretch of the transit corridor opens in late 2013, riders will be able to shuttle between Pentagon City though Crystal City into Potomac Yard and ultimately end up at the Braddock Road Metro station. The route will include several stretches of dedicated lanes, where transit vehicles will not have to share the road with regular traffic — a first for Northern Virginia. The launch will be a system known as bus-rapid transit, essentially using buses instead of railcars.
The problem is down the line.
Five years from now, however, Arlington plans to upgrade to streetcars. County leaders have determined that waiting for federal funding would pose too much of a delay and they already have the money to pay for it. Leaders in Alexandria, on the other hand, will have money tied up in building a new Metro station and won't have money to upgrade the BRT system to streetcars — making the environmental analysis much more important for Alexandria than Arlington.
"If we actually walk away from the alternatives analysis, we forever close the door on those federal funds," said Rich Baier, director of the Department of Transportation and Environmental Services. "So that alternatives analysis is a necessary precursor step in order to be able to apply for future federal funds."
A STREETCAR LINE in Northern Virginia has been a dream years in the making, one that is finally on the verge of happening now that the region's first transit corridor is about to launch. And yet some elected officials are urging caution, suggesting that local governments should not take on too much of a debt burden now. Councilman Frank Fannon, for example, is among those who say the new Metro station at Potomac Yard should be completed and paid for before the city considers upgrading from BRT to streetcars.
"If we are going to continue on this alternative I think Arlington definitely needs to be on board because they've got us to this point," said Councilman Frank Fannon. "They can't just walk away."
Arlington County Board Chairwoman Mary Hynes did not return phone calls, and Arlington County communications director Diana Sun declined to answer questions for this story.