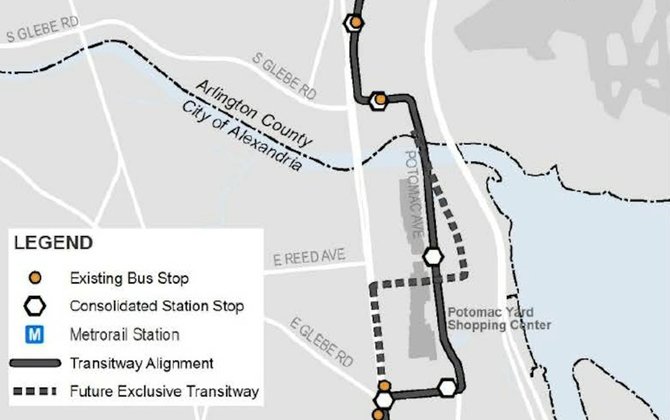 Arlington County and the City of Alexandria are each vying for an increasingly limited amount of federal transportation funding, leading to a conflict between the neighboring jurisdictions. At issue is millions of dollars from the Federal Transit Administration, awarded as part of a competitive process. Back in 2011, the county entered into an agreement with Alexandria that included an optional alternatives analysis to meet requirements for entry into the New Start/Small Starts program. Now, Arlington leaders have decided that they don't want to exercise that part of the agreement, opting instead to seek funding through the program for Columbia Pike.
"In the constrained pool of money, it's not realistic to think that we would get funding for two programs," said Arlington County Board Chairwoman Mary Hynes. "In the world of transportation funding, things change."
The move means that Alexandria and Arlington are now engaged in a competition with each other for money from the FTA. Alexandria officials say the failure to conduct an alternatives analysis could jeopardize as much as $120 million worth of federal money. That's why Alexandria Mayor Bill Euille and two other members of the Alexandria City Council were critical of the decision last week.
"There's been no dialogue between myself as the mayor and the chair of the Arlington Board of Supervisors on this topic at all," said Mayor Bill Euille during a City Council meeting last week. "That's not how you do business."
Back in 2011, Arlington and Alexandria entered a joint agreement for a $3.6 million to conduct alternatives analysis, environmental planning and conceptual engineering for the Route 1 Corridor Streetcar Project. Part of that agreement, labeled Task 4, laid out a process for applying for money from the FTA through the New Starts/Small Starts program. The line item is budgeted for $240,000, although county officials say the value of optional alternatives analysis would have been $160,000.
"That may be what they believe it is, and they may be right," said Deputy City Manager Mark Jinks. "But this is a joint study, and so both sides have to agree."
This week, staff members of both jurisdictions will be meeting to hammer out differences. Elected officials from both jurisdictions have scheduled a meeting in two weeks, hoping to find some kind of resolution to the issue.
"I think that it is a show of bad faith on the part of the Arlington County Board to have come to the city of Alexandria and to have asked us to enter something with them," said Councilwoman Alicia Hughes last week. "That is not the way you operate in a regional cooperative."
A streetcar line in Northern Virginia has been a dream years in the making, one that is finally on the verge of happening now that the region's first transit corridor is about to launch. Some elected officials are urging caution, suggesting that local governments should not take on too much of a debt burden now. Alexandria Councilman Frank Fannon, for example, is among those who say the new Metro station should be completed and paid for before the city considers upgrading from BRT to streetcars.
"If we are going to continue on this alternative I think Arlington definitely needs to be on board because they've got us to this point," said Councilman Frank Fannon. "They can't just walk away."