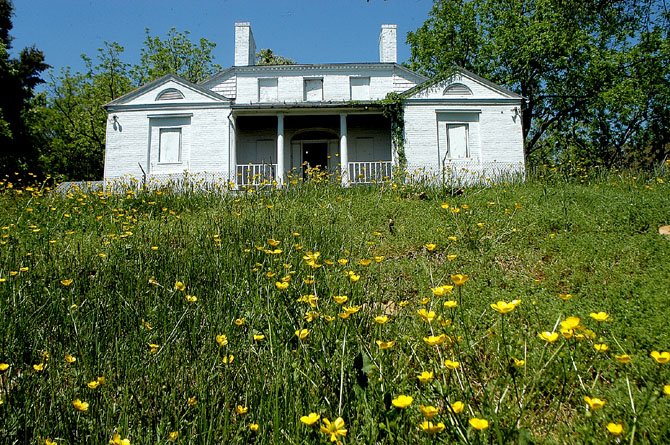 Mount Vernon — After decades of waiting, Historic Huntley will finally open its doors to the public next month. Officials with the Fairfax County Park Authority are planning a May 19 launch, a long-awaited opening for a historic property built in the 1820s by Alexandria Mayor Thomson Mason. The old house has been boarded up since being purchased by the Fairfax County Park Authority in 1989, when county leaders set out to restore the villa overlooking Hybla Valley. Since then, county voters have approved two bond referendum ballot items worth $3 million.
Ribbon Cutting
On Saturday, May 19, officials from the Fairfax County Park Authority will conduct a ribbon cutting for Historic Huntley at 2:30 p.m. The site will be open for tours from 2 p.m. to 4 p.m.
"We are very excited," said Judy Pedersen, public information for the park authority. "It's been a really long time coming."
The house will be open for public tours every Saturday through November, and the grounds of the property will be open dawn to dusk every day. County officials will also make the property available for rent, as long as the use is determined appropriate. Educational programs will be offered throughout the year to schools, scouts and other groups.
"Buildings do talk," said Huntley Meadows Park site manager Carolyn Gamble in a 2005 interview. "When the Fairfax County Park Authority started investigating it, this house had a lot to say."
RESTORATION of the property included demolition of additions that were not part of the original structure, presenting the house as it appeared in the 1820s. The interior was renovated to provide public access for cultural programming. Three learning lab spaces and public restrooms are now located in the basement. The main level includes an exhibit room, two interpretive rooms and a period-of-significance room.
"It's a beautiful example of the federal style because of its symmetry," said J.G. Harrington, a member of Friends of Historic Huntley during a recent open house at the site. "The design could have come from a pattern book or Mason could have designed it himself."
By the 1990s, the house was falling apart. Vagrants were stopping at the historic house and leaving graffiti. The building had fallen into disuse and disrepair, its faded glory offering a promise for those interested in taking up the cause of restoring it. In 1998, they joined forces and created Friends of Historic Huntley.
"The place was being held together with fairy dust and chewing gum," said Barbara Ballentine, president of the friends group. "That's why we are so excited to see it now looking so spectacular."
In 1998, voters approved a park bond that funded the preservation and redevelopment of the property, which had been abandoned and was falling apart. A master plan was approved by the park authority board in 2002, when $1.2 million was appropriated for architectural and landscape reports, studies and design. A 2008 park bond funded $1.8 million to complete the initial work started in 2002, and U.S. Rep. Jim Moran (D-8) helped secure an additional $100,000 through the National Park Service's Save America's Treasures program.
THE HOME MAY have been used as a summer vacation home by Mason, who was a grandson of "forgotten founder" George Mason. Thomson Mason served on the town council in Alexandria and his involvement in local politics included five terms as mayor and three terms as justice of the peace. An 1807 graduate of Princeton, Mason was a lawyer by profession. He was also a strong advocate in the fight to separate Alexandria from the District of Columbia. Six months before his death in 1838, he was named as the first judge of the new Criminal Court in the District of Columbia. Although Mason's primary residence was on Orinoco Street — a house known as Colross — Huntley was a second residence where he could escape the hot summer days in Old Town.
Huntley's hilltop location takes advantage of cooling breezes and its subterranean icehouse — a brick dome under the ground — is naturally chilly. The terraced gardens must have offered a picturesque environment to spend a warm summer day.
No one is certain how Huntley was used. Mason acquired the property circa 1825. But the architectural evidence suggests that part of the house may have been built before he acquired the property.
The surrounding farmland used to grow corn, rye, wheat and oats on the land which is now Huntley Meadows Park. Personal property tax records indicate that Mason owned 20 slaves who worked at Huntley.