Professor Harold Hill is coming to town, and River City will never be the same. And Floris United Methodist Church captures all the magic and merriment in its upcoming production of "The Music Man."
Show times are Thursday-Friday, Aug. 9-10, at 7 p.m., and Saturday, Aug. 11, at 2 p.m. Tickets are $15/person at www.florisumc.org/musicman. Floris is at 13600 Frying Pan Road in Herndon.
There's a cast and crew of 65, with actors ranging from age 7 through adults and coming from communities including Centreville, Herndon, Clifton, Fairfax and Chantilly. The church's music director, Yoon Nam, will direct a 15-piece orchestra.
Proceeds go to Connections for Hope, a community-service partnership providing health care, housing assistance, legal aid and tutoring to low-income, Fairfax County residents.
"Harold Hill's a con man who thinks Iowa's the best place for his latest con – selling band instruments and uniforms to create a boys' band," explained Director Barbara D. Carpenter. "But before he can leave town, he falls in love with Marian, the librarian."
She said the audience will love the show, too. "The music's beautiful and catchy, with hummable tunes people know," said Carpenter. "There are great dances, and 7-1/2 year-old Samuel Elliott, as Winthrop, Marian's little brother, is absolutely endearing. It's a terrific love story."
Centreville's Ward Ferguson is the church's contemporary music director and the show's vocal director and lighting and set designer. He also plays Hill, who he describes as "the slickest of the slick."
Hill fancies himself a step ahead of everyone else and "never wants to get caught flatfooted," said Ferguson. "He doesn't think what he's doing is bad. He does bring joy to towns for awhile and he's good at it. But he's attracted to Marian because she's so grounded."


THRILLED WITH THE PART, Ferguson said, "I was born to play this role. I've wanted to ever since I saw Robert Preston play it in the movie. Hill sings some great, iconic numbers, like 'Trouble,' '76 Trombones' and 'Marian the Librarian.' He's challenged by Marian and relishes getting into messes as much as getting out of them." Ferguson's favorite song is "Sadder but Wiser Girl" because "the lyrics and imagery it evokes are some of the best in musical theater."
He said the audience will like the child actors, plus the adults who "play their characters' idiosyncrasies to the hilt. It's a quality show and the church's first major music production, and everyone's come together to give their time and talent to create it."
Furthermore, added Carpenter, "Herndon Middle School loaned us their band uniforms, and many of our costumes are on loan from other theater companies. We're also creating some. Well-to-do ladies wear jackets and long skirts; others wear housedresses. Men wear vests and bowties; farmers, bib overalls; and boys, knickers. And nearly everyone wears hats."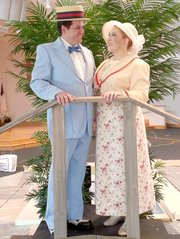 Portraying Marian is Ferguson's real-life, new bride, Katie, who also helped choreograph. "Marian's different from me; she's very prim and proper," said Katie. "But I connect to her because she has a soft heart. She tends to not be forgiving, but has a soft spot for anyone connecting with Winthrop. Family's important to her."
Katie's enjoying her role because "Marian has two different sides, and it's fun showing how she changes." She especially likes the song, "'Til There Was You," noting, "The Beatles' version was our first dance at our wedding." She's having fun acting with her husband because they met while acting together in Florida. "It's challenging to separate your real life from the character," she said. "But it also helps in a love story."
Franklin Glen's Mike Cash plays Mayor Shinn. "He's a relatively successful and narcissistic businessman," said Cash. "He's frequently taken in, but astute enough to be suspicious of Hill. He's not pleased that Hill takes attention away from him, reducing his importance. I can do cartoon characters or buffoons, and I'd do about anything for a laugh."
Cash likes the same song Katie does because "it's the show's turning point. There's a sense of redemption that Marian will make an honest man of Harold, and he's happy about it." He said the audience will leave whistling "76 Trombones" and he praised the talented cast, especially Ferguson.
"Ward's an excellent musician and a seasoned performer and really has the chops for this part," said Cash. "This is the quintessential American musical, and it's done really well."
Glynn Cosker of Oak Hill portrays Hill's old friend, Marcellus. "They used to be con men together, but Marcellus doesn't do that, anymore," said Cosker. "But now he has to help Hill. He's a nice, down-to-earth guy wanting the best for everybody. I'm enjoying this role; Ward's a good friend of mine so we have good chemistry. Marcellus frantically runs all over town, and that's fun."
Cosker also sings his favorite song, "Shipoopi." It's the fastest song he's ever sung, but he's enjoying it. Cosker says the audience "will love the show's choreography and nostalgia. The musical came out in the 1950s, but it's set in 1912, so people will get to see another time."


OAK HILL'S Marissa Dolcich plays Marian's mother, Mrs. Paroo. "She's feisty and has an Irish accent," said Dolcich. "She's anxious that Marian's 26 and unmarried. She's charmed and impressed by Hill and hopes Marian will come to her senses and marry him. I love her humor and aphorisms, and I'm in this show with my youngest daughter Lucy."
Natasha Smith of Herndon portrays Alma Hix. "She's a town gossip – the one who says what everybody's thinking," said Smith. "She tries to be like the mayor's wife, who runs things. People will come away feeling like they just visited that small town. Everyone will want to take home Sam, who's adorable as Winthrop, and audience members will know people in real life who resemble these characters."
Oak Hill's Susi Underhill plays a single parent and is excited about her first musical production. "The story, music and humor are so engaging," she said. "And people will be impressed by the actors' amazing talent."