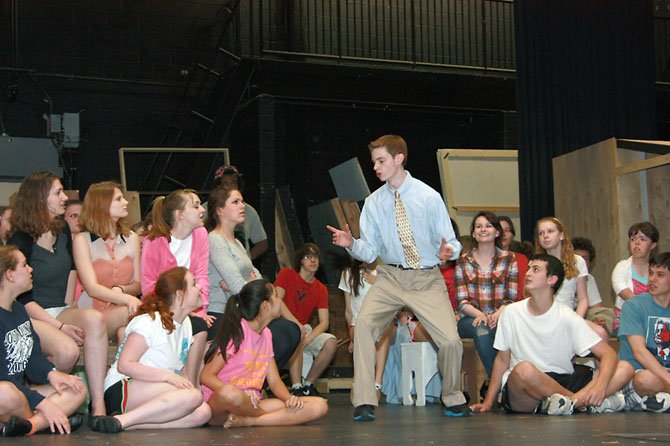 Where and When
"The Music Man" runs Friday, May 3, Saturday, May 4, Friday, May 10, and Saturday, May 11. All performances are at 7:30 p.m. Tickets are $12, and $10 for senior citizens and students. Discounted tickets can be purchased in advance at www.southcountyth.... The Dale S. Rumberger Auditorium at South County High School is located at 8501 Silverbrook Road, Lorton, Virginia 22079.
Katie Murray, a South County High School senior and Fairfax Station resident, remembers vividly the first time she saw a rendition of Meredith Wilson's classic musical "The Music Man." Her younger self was home sick, channel surfing, and stumbled upon the 2003 film remake starring Matthew Broderick and Kristin Chenoweth.
"When it was done," recalled Murray, "I felt instantly better ... for two minutes. It was just that moment, when everything was right with the world. It's one of those feel-good musicals, but it also has a lot of depth to it that you don't expect."
Indeed, the Grammy and Tony Award-winning melodies telling the story of the slick traveling salesman Harold Hill and dubious librarian Marian Paroo have entertained generations of theatergoers. Songs such as "Seventy Six Trombones," "Gary, Indiana," and "Shipoopi" are lodged firmly in the tapestry of American musical history.
HILL, PLAYED BY SOPHOMORE Jack Gereski, is something of a lovable tramp, looking to make River City, Iowa, another notch on his con belt. To get into character, "I have to feel really, really slimy," explained Gereski. "I'm ripping all these people off. I enjoy it."
Hill's standard angle is swooping in on unsuspecting townsfolk and smoothly yet swiftly plying them for money with visions of starting up a grand and mellifluous boys band. Once payments for instruments and uniforms are in hand, Hill skips town.
However, things don't go exactly as planned in River City, thanks in no small part to Marian, her skepticism, and her eventual change of heart. Hill is attracted to her, despite her defensive maneuvers, and begins to unveil a softer, more genuine underbelly to his character.
"I re-watched ['The Music Man'] recently," said senior Whitney Turner, "and it's interesting to see how well developed the characters really are, even though it seems like such a simple musical." The Fairfax Station resident plays Marian in this production.
"It's the old idea, 'never judge a book by its cover'," added Murray. "When you unravel the true Harold, he's a really great guy, who really cares about this town and these kids, and wants to help them in the end."
THE CAST OF OVER 50 will be clad in largely self-made costumes, and on full choreographic display during a number of extended dance scenes. "There are several big, flashy numbers in this show," said show director and South County drama teacher Kathie McCormally. "I love the big numbers; musicals are my favorite to do."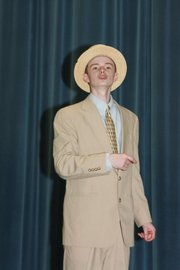 This production is McCormally's third time directing "The Music Man" in her 33-year career of teaching theater. "Every time there are new obstacles, new challenges," she said. Especially when the spring musical is open to the entire student body, not just drama students.
"The majority of students are from the theater department," admitted McCormally. "But we always have new ones that come up, and I'm always surprised."
One of those surprises was Gereski, who bagged a lead role in 2012's production of "West Side Story" as a freshman. As a drama-novice choir student, the ascent was unexpected—not unlike the turnaround in this year's role.
"The thing that sets this musical apart," said Gereski, "is the villain is the guy everyone ends up rooting for in the end." Whether "villain" is Hill's condition or his identity, remains open to interpretation.