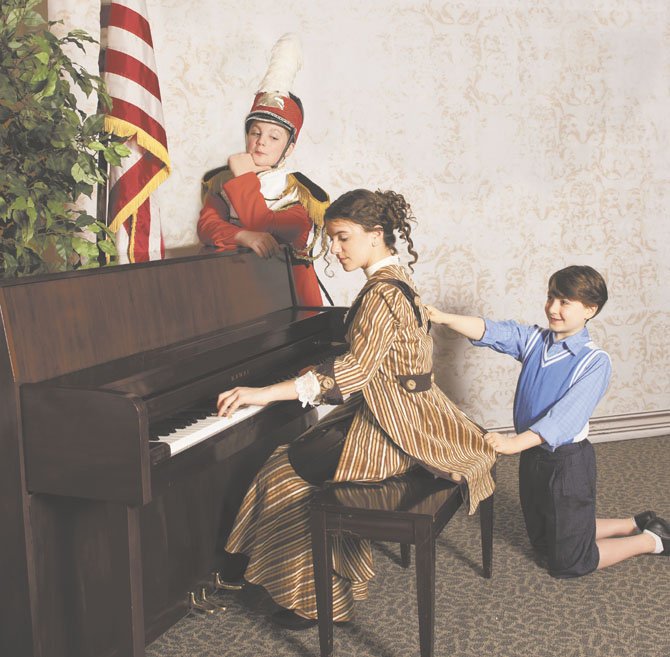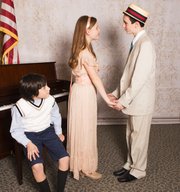 Potomac — There may be trouble in River City — but at the new Bravo@Kat theatre for young artists, there's only the excitement and thrill of the inaugural performance of Meredith Wilson's play, "The Music Man." On Jan. 19 and 20, the Olney Theatre Center's historic stage will reverberate with familiar tunes from "The Music Man" while 35 young performers from Montgomery County entertain and delight their audience.
Bravo@Kat is a new musical theatre program designed for children in grades 3-8. As a part of the award-winning Kensington Arts Theater, the program focuses on teaching the art of musical theatre — as well as imparting a love for this American art form. "We make sure that the children are having a blast while they learn to work together as a cohesive and supportive cast," Executive Producer Laurie Levy Issembert said. "While they are learning the tools of the craft — music, lyrics, choreography, staging and blocking — they are also becoming the next generation who will keep the Broadway tradition alive, if not onstage, then as well-versed audience members."
Director Darnell Morris said, "'The Music Man' is as American as apple pie and with its classic approach to musical theatre, it's a perfect introduction to the genre we are so proud to represent — the Golden Age of Broadway." Issembert points out that this "All-American" play is being presented the same weekend as the U.S. Presidential Inauguration. The show is geared for an audience of children — but all ages will enjoy this production. The show is the junior version of "The Music Man" and will run approximately one hour.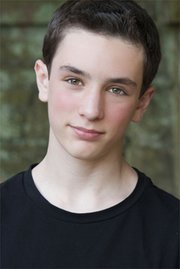 POTOMAC is well-represented in the cast of "The Music Man." Jake Land, a freshman at Wootton High School is double-cast as con-man/traveling salesman Harold Hill as well as Hill's best friend Charley.
Fourteen-year-old Land is no stranger to the stage. His professional credits include roles in NBC's "30 Rock," Ford Theatre's "A Christmas Carol," Shakespeare Theatre's "Strange Interlude," Round House
Theatre's "A Wrinkle in Time" and more. He previously played the part of young Winthrop in the 2011 Potomac Community Theater's production of "The Music Man." What does he like about "The Music Man"? "I love the simple story of good overcoming bad and I also really love the music in this show. The songs are as fun for me today as I imagine they were 50 years ago when the show first came out. I really enjoy working with all of the actors in our cast and the directors and artistic team too," he said. Other Potomac performers include Shira Minsk and Hannah Marill, students at the Charles E. Smith Jewish Day School, Hoover students Josie Weinberg, Sam Nasar, Isabel Namath and Ethan Miller and Amanda Primosch who attends Robert Frost. Younger siblings of the cast members are also performing as members of the "Boy's Band." The students love participating in the performances and even appreciate the practices. Twelve-year-old Josie Weinberg is enjoying playing Marian. She said, "I get to do some real acting since she is a more complex character than the previous roles I've played. And I get
to sing some great songs!" Ethan Miller plays the humorous character, Marcellus Washburn.
"I feel this character fits me well because I enjoy joking around and making people laugh," he said.
Shira Minsk is pleased that her role as Zanetta includes being a featured dancer, even though the dances are challenging. She explains how she feels about performing in the play: "I think one of the most rewarding things is seeing people smile at the end of the show. When they smile and clap, it makes me smile too. Also, just being on stage is rewarding and fun, and knowing that I put in so much hard work to make a great production, and when it all comes together on stage it really makes me feel good." Tobi Baisburd also plays the part of Marian. The Ridgeview Middle School student finds it rewarding to be a part of this cast. "I'm always very excited to go to rehearsal to be with all of my friends," she said.
"I also love seeing the play finally come together as a whole. It's amazing to see it grow from just reading the script to a full production with a wonderfully talented cast. I enjoyed playing Marian because of how strong a character she is. Marian sticks up for what she believes in and I admire that, so being able to play this strong female role was a great experience. The show is filled with fun-loving songs and dances that I think children of all ages will enjoy seeing." The performers must be organized to maintain their school-work, grades, vocal and dance lessons as well as their other activities and commitments to friends and family. All seem to be thrilled with performing in musical theatre — and most are hoping to have a Broadway career in the future. When asked why children will like this show, performer Josie
Weinberg said, "Children should come see this musical because it's a story about how music can change someone's life." Ethan Miller said, "The cast is very talented — and it will be an amazing show!"
Issembert is well-known for her contributions to the arts in the area. For the last 14 years, she has produced Broadway musicals with local lower, middle and high school students, many who have gone on to work in the entertainment industry. Issembert's former career included feature films in Hollywood on the production side and news and documentaries for local, national and international television. "We will be auditioning for 'Fiddler on the Roof' on Sunday, Jan. 27 from 12-4," said Issembert. "The cast size will be 35-45 students in grades 3-8, although some roles may be double cast and others may be played by older or younger students." Auditions will be held at The Dancing Cub, 5050-D Nicholson Lane, Rockville. E-mail Issembert at tllg22@gmail.com for an appointment and go to www.katonline.org for more information.