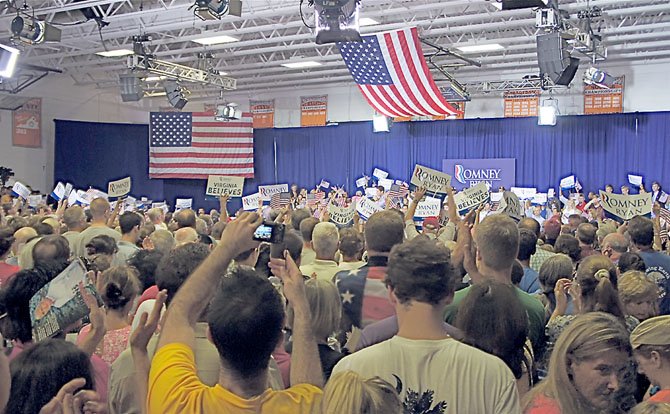 "I'm here because I'm tired of looking for my career. I hope this ticket and these people can make a difference and give us job opportunities." That's why Jay H. from Herndon says he drove all the way to attend the GOP Victory Rally at West Springfield High School on Friday, Aug. 17, featuring VP candidate Paul Ryan on his campaign swing through Virginia. A 2011 graduate from a local college with a degree in business, Jay says he has been looking for "something more than a job in retail" since then.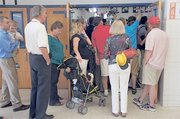 The school's auditorium was filled to capacity-plus. Organizers had set up overflow rooms with TVs, but late arrivals still crowded around the auditorium doorway. Fairfax County fire marshals were on hand to ensure the safety of the crowd and were observed on several occasions re-establishing the exit paths that had once again filled in as people kept arriving in hopes of seeing and hearing Republican Party A-listers and the star of the event, Paul Ryan, U.S. representative for Wisconsin's 1st Congressional District, presidential candidate Mitt Romney's newly appointed running mate.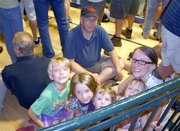 Attendees Chris and Beth Caron from Springfield also worry about the state of the economy and unemployment. "We're here to show our support. I haven't volunteered yet, but I probably will," said Beth. "I think Romney and Ryan have a better plan for the economy, and I support their social views. As you can probably guess, we are definitely pro-life," she added with a smile and a gesture to indicate their five children and the new one on the way. Fortunately, the Carons had carved out a spot where Beth and the kids could sit while they waited for the speakers to begin.
John Creamer of Alexandria, a recently retired journalist, says he came to the rally "to protect my liberties. I don't want to lose my liberties or my freedom." Creamer believes both to be in jeopardy under the present administration.
The audience was definitely warmed up before Congressman Ryan took to the stage. Fairfax County Supervisor Pat Herrity (R-Springfield) did the honors, introducing guest speakers that included fellow Supervisor John C. Cook (R-Braddock), Chris Perkins, Congressional candidate for Virginia's 11th District, U.S Congressman Frank Wolf (R-10th District), and Virginia Attorney General Ken Cuccinelli.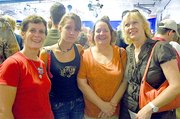 Mary Mohl expressed support for much of what she heard from the speakers, but actually had decided to attend the rally "as a fact finding mission," she said. " I don't think we have gotten a lot of specific information from Romney so far. I wanted to come and hear what Paul Ryan has to say," said the Springfield resident. "What he has said about Medicare…that's probably realistic, the future." Anything else Mohl might have added was lost to the roars of the crowd as candidate Ryan took to the stage for approximately thirty minutes, hitting the Romney/Ryan platform highlights of supporting small business, tax and regulatory reform and reduced government spending to a balanced budget.
There were a few challenges to the event, including several attendees who were treated by paramedics after succumbing to the heat in the auditorium and one protester who shouted at Ryan and was escorted from the room after tearing up a "Romney For President" sign but overall, organizers could only be pleased by the turnout, both for its numbers and enthusiasm.