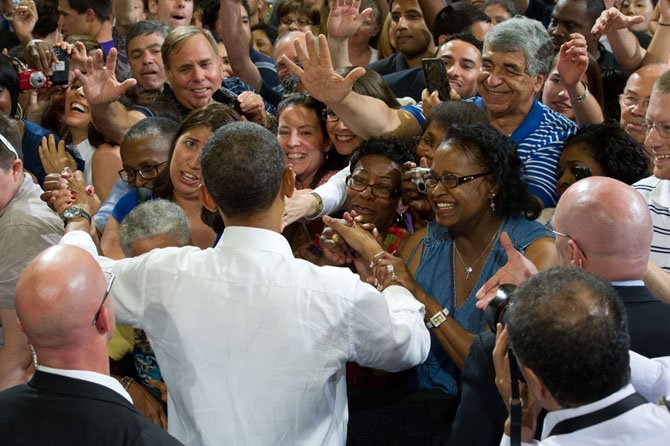 They came, they waited and, more than three hours later, they entered Centreville High's gym. Hundreds and hundreds of people from the local community, as well as from Loudoun and Prince William counties, stood in humid, 96-degree heat Saturday afternoon, July 15, to see President Barack Obama in person and hear him speak at a grassroots campaign rally.
"We thought, if the president was this close to our house, there was no excuse not to make an effort to be here," said Susan Woodruff of Little Rocky Run. "I have two nephews, 11 and 4, here from Charlotte, N.C., and we're excited for them to have a once-in-a-lifetime chance to see the president."
Concerned about "the extremism and the lack of bipartisanship in our government," she said, "I'm definitely going to vote for him."
SPORTING A T-SHIRT with several pictures of Obama on it, Centreville High freshman Miles Brooks didn't mind the long wait outside. "It's worth it to see the first black president of the United States," he said. "So far, he's done a good job running this country, trying to keep it together."
Photo Gallery
Residents flock to Centreville High to hear president Obama speak.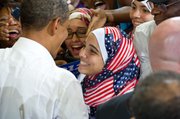 Click Photo for Flash
Agreeing, Virginia Run's Gay Crosby — whose son Jason teaches history at Centreville High — said Obama "doesn't get enough credit" for all the good things he's done. "I've been involved in politics all my life, working on different campaigns," she said. "But this is the most important election in my lifetime — because it's to save the middle class. It keeps going down, along with the salaries."
Thelma Bowles of Fair Oaks is an Obama campaign volunteer, but she was there last Saturday, July 14, as a resident and a supporter. "I am in — and I was in 2008, too," she said. "I like the kind of man he is — honorable and intelligent, and someone who can talk to all kinds of people. He's also a good, family man."
She said Obama's worked hard to get things accomplished for the country, but "a broken Congress has blocked him from achieving all the things he promised us. But in a second term — which he will get — I do believe he'll come from a different place and push through the things he wasn't able to before."
Fairfax's Paul Burgess wanted "to see and support the president in any way I can. I took off work early, Thursday, and stood in line for two-and-a-half hours to get tickets." He said the economy and jobs are the most important issues in the upcoming election. And, he added, "Hopefully, with the changes in Congress, this time around he can get something done, other than executive orders."
But if Republican candidate Mitt Romney becomes president, said Burgess, "My greatest fear is that our country will just go to hell in a hand basket. I fear it'll spread the two extremes even more; and more people will drop out from the middle class into the lower class and we'll be headed for another calamity."
Also looking forward to hearing Obama speak was Ed Neugass, 68, of Herndon. "This'll be the first president I've seen in person," he said. "I think he knows who we are — we have each other's back — which is to say we're connected." And like Bowles, he said the big issue is "getting past Republican blocking on the economy and jobs."
Regarding Romney, Neugass said, "He has a great problem with the truth, so I'm fearful people will rely on what he says and we'll suffer as a result. People will lose their jobs and houses and will be pitted against each other. I'm also concerned that the regulators of our banks will not regulate, and the greedy people within them will figure out a way to bring down our banking system again."
Troy Carpenter of Centreville's Centre Ridge community wanted his children, 16 and 12, to see their president and learn what it's like to be involved in the political process. Saying he shares the same views for this country as Obama does, Carpenter said, "This will be a critical election. The president's trying hard to help the ones who've not been able to get help before. The Democrats tend to have more of those values that I strongly support."
He, too, said jobs and the economy are the crucial issues in this election. "It's not just about Obama getting elected," said Carpenter. "It's about people of like mind also getting into office and being able to move his agenda forward."
ALSO WAITING IN LINE was Shannon Mancini of Clifton's Union Mill community. "I think the president's done a great job, these past four years, with the economy and health care, and I want to see him continue for four more," she said. "All around, I think he's brought unity to this country."
If Romney's elected, said Mancini, "I fear that we'll go deeper into deficit and women won't have the rights they deserve. I think this country will just break apart. I don't think Romney cares about people's needs."
Volunteers frequently passed out cold water to the people standing in line in Saturday's summer heat. And now and then, a campaign worker shouted, "Fire up!" through a bullhorn, while Obama supporters responded, "Ready to go!"
The only discordant note for them came from the vocal Romney backers standing across from the school along s. But even their words and presence couldn't dampen this crowd's enthusiasm. When Romney supporters yelled, "Repeal Obamacare," those in line to see the president shouted back, "Four more years!"