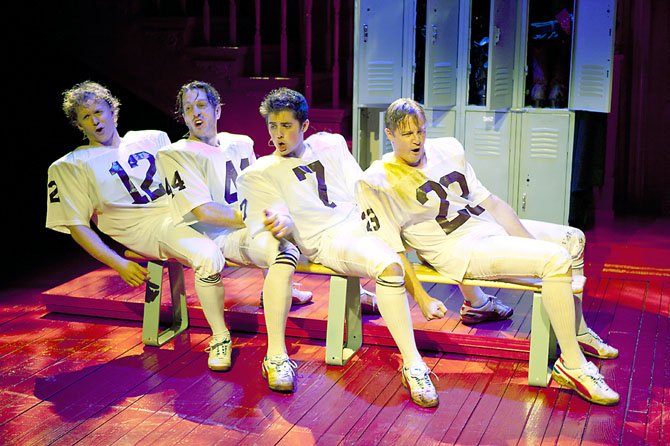 Arlington — It was known as The Chicken Ranch, a century-old "business" in La Grange, Texas, that earned its nickname for accepting chickens as payment for services rendered. But when a crusading TV reporter makes the brothel the subject of an expose, the legendary house of ill repute is forced to close, providing the basis for "The Best Little Whorehouse in Texas," a boot-scooting musical now playing at Signature Theatre in Arlington.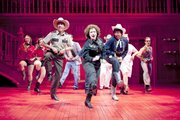 Originally staged on Broadway in 1978 (followed by the movie starring Dolly Parton and Burt Reynolds), "Whorehouse" stars the incomparable Sherri L. Edelen as Miss Mona, the proprietor of the Chicken Ranch. Edelen brings a sultry sexiness to the role, exuding charisma and charm in a range of songs from "A Lil' Ole Bitty Pissant Country Place" to the poignant closing strains of "A Friend to Me."
In addition to Edelen, the exceptional cast includes Thomas Adrian Simpson, who turns in a stellar performance as Sheriff Ed Earl Dodd, a hot-tempered good-old-boy with a tender spot for Miss Mona. Simpson delivers his many expletive laden monologues with conviction and flair, while his rich vocals shine in "Good Old Girl."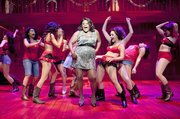 Nova Y. Payton returns to Signature as Jewel, Miss Mona's trusted assistant who, along with the ensemble of "working girls," brings down the house with a rocking rendition of "Twenty-Fours of Lovin'."
With relentless energy and humor, Christopher Bloch commands the stage as the pompous and pious Melvin P. Thorpe, the TV reporter hell bent on shuttering the whorehouse, while Dan Manning is the Texas governor who comically sidesteps his political dilemma.
The entire ensemble is equally impressive, with the male Aggie Boys especially memorable in the sizzling, athletic routines that literally bare all save for the strategic placement of a few 10-gallon Stetsons.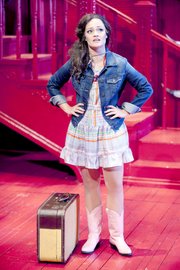 Music and lyrics are by Carol Hall and book by Larry L. King and Peter Masterson. Gabriele Mangiante provides the musical direction of the seven-piece orchestra with choreography by Karma Camp.
The original Chicken Ranch may have ceased operating in 1973, but under the masterful eye of Signature's Artistic Director Eric Schaeffer, the legacy of "The Best Little Whorehouse in Texas" lives on in one of the most entertaining, toe-tapping productions of the year.
"The Best Little Whorehouse in Texas" is playing now through Oct. 7 at Signature Theatre, 4200 Campbell Ave., Arlington. For tickets or more information, call 703-820-9771 or visit www.signature-theatre.org.