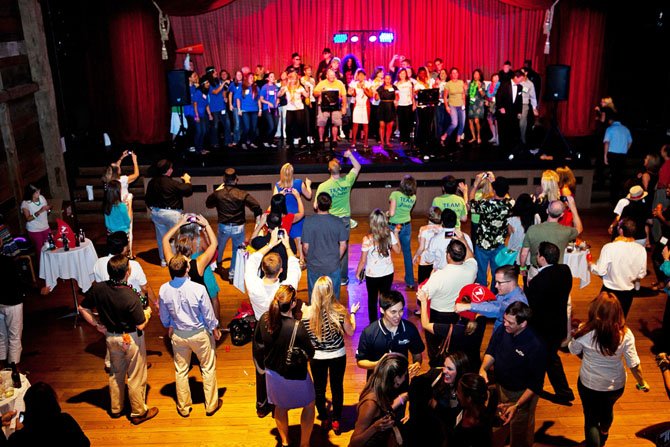 Listen, baby…
Char-a-oke Award Winners
Best Performance: Northrop Grumman
Best Vocals: Dominion Virginia Power
Best Moves: Cordia Partners
Best Lyrics: McGladrey Tax Services
Spirit Award: Helios HR
Best Duet: Cardinal Bank
Most Crowd Participation: John Marshall Bank
"Ain't no mountain high. Ain't no valley low. Ain't no river wide enough, baby. If you need me, call me. No matter where you are. No matter how far."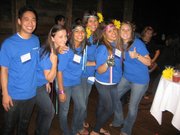 The Motown classic "Ain't No Mountain High Enough," by Marvin Gaye and Tammi Terrell, has been a show-stopping favorite for decades.
The same was true Thursday night for the karaoke team from Northrop Grumman, who won bragging rights as the 2012 Best Performers during the Fairfax Chamber's second annual karaoke event to benefit Fairfax County Public Schools education foundation.
The team joined more than 250 members of the Northern Virginia business community, elected officials and other notables who sang or cheered on other participants. The list included Delegates Dave Albo, Mark Keam, Barbara Comstock, Kay Kory, Alfonso Lopez, Jim Scott, Ken Plum, Vivian Watts and Tom Rust. Senators included Dave Marsden and Barbara Favola, as well as Fairfax County Supervisor John Foust and Fairfax County Public Schools (FCPS) Superintendent Jack Dale.
"The atmosphere was electric," said Fairfax Chamber President & CEO Jim Corcoran. "It was an incredible display of community involvement, competition and just plain fun, all in support of a great cause – education." Corcoran said the Education Foundation has made contributions to FCPS of over $1 million in the past two years. The event raised about $19,000 last year and $30,000 this year.
The foundation, Corcoran said, is not a scholarship program, but a way to fund and support initiatives in Fairfax County's world-class public school system.
Corcoran said the event grew from five teams participating in the singing competition the first year to 22 karaoke teams this year.
"What was really great about this event is that you didn't have just one sector participating. You had a who's who from companies of all sizes, government contractors, banks, elected officials, FCPS."
Corcoran said Helios HR in Herndon was the event's Signature sponsor. "Kathy Albarado, Helios HR's CEO, was great at creating enthusiasm for this event. You have no idea how excited people were."
Erin DeWaters, the Fairfax Chamber's vice president of communications, said some companies recruited interns to participate, while others got their CEOS on stage to perform, and some teams practiced all summer.
"It was also a great team-building effort and a way to boost employee morale," DeWaters said.
Corcoran said last year he performed original lyrics to Billy Joel's "Piano Man." And this year? "They fired me," he joked. But DeWaters set the record straight: the event was so popular they filled the 22 slots quickly with chamber members.