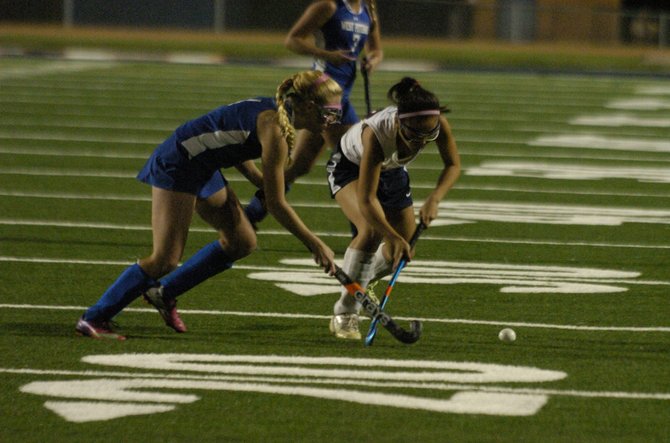 The Woodson field hockey team had struggled putting the ball in the cage in recent games and entered Tuesday's contest against West Potomac with hopes of scoring early and often.
Initially, it was more of the same for the Cavaliers. Woodson kept the ball at its offensive end for nearly the entire contest and held a 17-2 advantage in penalty corners, but after 57 minutes, each team had a goose egg on the scoreboard.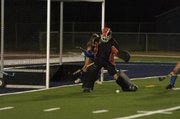 After coming up empty time and time again against West Potomac goalkeeper Eve Hauptle, Woodson's Andrea Pasierb finally scored with 2:35 remaining, triggering a late goal-scoring burst.
Alex Lightfoot and Sam Schaffer added goals in the final minute, giving the Cavaliers a 3-0 victory over West Potomac on Sept. 24 at W.T. Woodson High School.
"Statistically, we said you keep shooting, you're going to score. That first one is just going to be tough," Woodson head coach Meg Jarrell said. "We said once you get the first one, they're going to just start piling up and they did.
"We just ran out of time or I think we would have kept scoring."
Lightfoot said "teamwork and communication" helped keep the Cavaliers from getting frustrated with their inability to score. Their persistence paid off with three goals in the final 155 seconds.
"We had the momentum most of the game and we've been having a hard time finishing," Lightfoot said. "Once we [started scoring], I think it gave us even more momentum."
Part of the Cavaliers' goal-scoring struggles had to do with West Potomac's Hauptle, who finished with 13 saves.
"I think our junior goalkeeper, Eve Hauptle, is one of the best in the region and she keeps us in a lot of games," West Potomac head coach Dana Hubbard said. "She's the reason that the score wasn't more (lopsided) than it was. I think our defense stayed really tough, we were just unfortunate to have one go in and then everything fell apart from there."
West Potomac (3-6) will travel to face Mount Vernon at 7:30 p.m. on Thursday, Sept. 26. Woodson will travel to face West Springfield at 7:30 p.m. on Friday, Sept. 27.