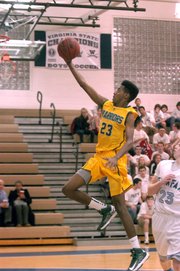 Three years ago, Khory Moore and Ermias Nega were the stars of a Wakefield freshman boys' basketball team that had people buzzing. The Warriors lost only a handful of games during the 2009-10 season, leading to visions of a promising future.
"We were the next big thing at Wakefield," Moore said recently. "… We were the talk of the school our freshman year, [about] how we were going to be so good when we came to varsity."
On Friday, Nov. 30, Moore and Nega played in their senior-season opener. Nega produced a double-double, scoring a team-high 24 points and grabbing 12 rebounds. Moore scored 22 points and knocked down a career-high six 3-pointers. The duo led Wakefield to a 71-68 victory against a Fairfax team that reached the 2012 Northern Region semifinals.
This is the way things were supposed to be. After dominating at the freshman level, Moore and Nega were projected to grow into varsity standouts. But while it sounds simple, their path to varsity stardom has been anything but easy. Neither athlete played basketball for Wakefield at the start of his sophomore season. Poor grades forced Moore to miss the first half of the season, but he got his act together and joined the varsity in January of 2011 and has been on the team since. Nega, however, took much longer to work through his problems. He missed his entire sophomore and junior seasons while dealing with trouble at school and getting mixed up in the court system.
"It was like an empty feeling," Moore said, "not having my best friend play with me."
Nega stumbled during his sophomore year. He was getting in trouble at school — when he decided to go. Sometimes he would skip or hang out with the wrong people. He got in trouble with the law and ended up on probation. Nega said he thought he wanted to get his life in order toward the end of his sophomore year, but he didn't make it happen.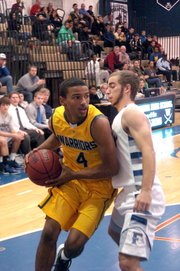 "He couldn't get his life together," Wakefield head coach Tony Bentley said recently. "He screwed around for two years — wasted two years of his life. … I told him, 'You will never step on the court until you change your life.'"
During the summer before his junior year, Nega violated his parole by missing his 9 p.m. curfew. A judge ordered Nega to stay at the Argus House, a group home in Arlington for troubled youth.
"I was just too cool for school," Nega said recently. "I didn't have school as my priority."
Nega lived in the Argus House for five months during his junior year — an experience Nega said played a major role in helping him get on the right track. He also had the support of Bentley and his close friend, Moore.
"[Bentley] had a lot to do with [getting my life together]," Nega said. "While I was messing up, he would still have me come talk to him. … He's like another father figure to me. He gave me the exact same feedback my father gives to me. While I was in the Argus House, he was my mentor."
Moore was able to give Nega advice forged through experience. Moore's grades slipped his sophomore year due in part to hanging out with the "wrong" people. Moore urged Nega to spend time around people who would help him focus on being successful. There was a time Moore lost faith in Nega when he started hanging out with his old friends, but Nega eventually got back on track.
"[Moore] was one of my best friends," Nega said, "and always gave me good feedback [about] how to get away from my bad friends."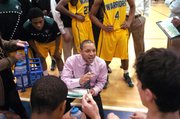 Nega moved out of the Argus House last summer. He has a clean slate and different perspective. He's maintained a GPA of better than 3.0 and stayed out of trouble.
"The Argus House really changed my life," Nega said. "They gave me some good feedback [about] how to become a man."
Getting his life together off the court allowed Nega to get back on the court. He was named a team captain, along with Moore and junior guard Jalen Carver. On Nov. 30, Nega said he nearly burst into tears during the bus ride to Woodson High School, where Wakefield would open the 2012-13 season against Fairfax in the Red Jenkins Tipoff Classic. After a stellar performance against the Rebels, Nega released his emotions when he got home.
"Now I'm thinking about school, thinking about college [and] thinking about what I'm going to do after high school," Nega said. "I'm so humbled right now. I take it day by day. I'm just blessed."
Wakefield defeated Robinson, 57-41, on Dec. 1, improving the Warriors' record to 2-0. Wakefield will host Woodson at 7 p.m. on Wednesday, Dec. 5.
Wakefield is an inexperienced team, but the Warriors showed against Fairfax they have the potential to make some noise this season — thanks in large part to the dedication and determination of Nega to get his life in order and get back on the court.
"Is he perfect? Hell no. But he's getting better," Bentley said. "He's getting a lot better."