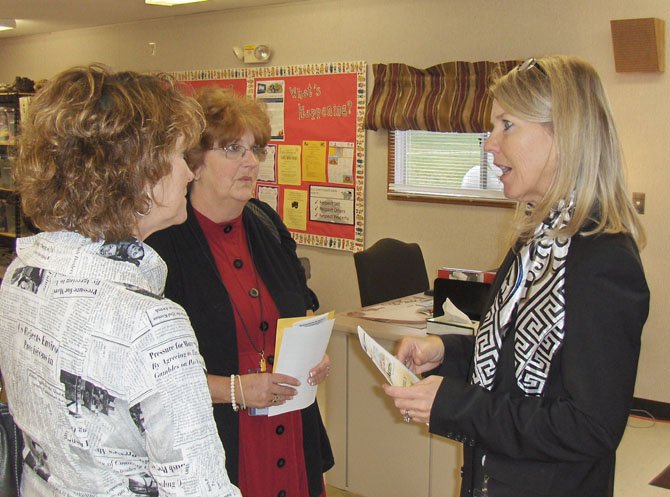 Centreville — On the surface, it's a beige trailer in a parking lot outside Bull Run Elementary. But inside, it's both a haven and a source of information for parents. And on Nov. 12, it was officially dedicated as the Bull Run Family Center.
"We've worked hard in the past year to bring this vision to fruition," said Principal Patti Brown. "We wanted to create a welcoming place where our families could gather, learn and access school and community resources."
"We hope our parents will consider this family center a home away from home where they can build relationships, learn about our school practices and policies, practice and improve skills and take on active roles within the school," she continued. "We have lots of information, programs and services to offer here, and today is to introduce to you all that our new family center offers."
The facility is open weekdays (phone 703-227-1447), and Spanish-speaking parent liaison Lisa Cordova (Lisa.Cordova@fcps.edu) and Korean-speaking parent liaison Robin Garito (Pok.Garito@fcps.edu) have their offices inside. Cordova is there mornings and Garito, afternoons.
It's hoped that the family center will become a hub for school, family and community events, with the goal of helping parents find what they need so they, in turn, can help their children reach academic success.
During the ceremony, Brown thanked Cordova and Garito for helping make the center a reality. She also noted the hard work of Robbi Moore, Laura Quinn and school counselor Dana Doss in creating the center inside a space formerly used as a storage unit "with stuff stacked up to the ceiling."
There are 50 such centers in FCPS, and Brown acknowledged Mary Shepherd, Bette Morris and Lynne Whildin from the FCPS Family and School Partnerships office for their guidance. She also thanked Bull Run's PTA for contributing funds and supplies to the effort, as well as the 2011-12 SCA (Student Council Association) for donating money earned last year.
"We know student success is tied to parent involvement, and we hope many more parents will come to this center," said Brown. Then she, Garito and Cordova cut the ribbon on the new facility together, and parents went inside to check it out for themselves.
The interior is cheerful and cozy. There's a couch, chairs, table, rug, desks, computers, a flat-screen TV, chalkboard and children's play area with toys. "Many people don't have computers at home," said Brown. "So they can use the ones here to look for resources on the FCPS Web site or even look for jobs." Parents may even learn basic computer skills there.
The center also contains a clothes closet where parents may donate or obtain shoes and clothing for their children. And in the lending library, parents may borrow learning materials to use at home. They'll also find dual-language books, math games and books on, for example, parenting, building character in children and promoting good study habits.
Parents may participate in morning-coffee conversations at the center and choose the topics they'd like to discuss. Parent-to-parent support groups will meet in the center, as well as parent workshops on subjects such as homework hints and preparing for parent-teacher conferences.
Also in the center, parents may obtain information about volunteer opportunities in the school. Volunteers are always needed to help the teachers, participate in school events, lend a hand in the cafeteria and library, and go on school field trips.
At Bull Run, students speak 48 primary languages and, said Brown, "With so many families speaking different languages, parents aren't always comfortable coming into the school. But at the center, they can come and meet other parents, become more comfortable and eventually volunteer in the school and in their child's class."
Whildin made the center's brochure and attended the grand opening. "I think it's wonderful," she said. "The school has done a phenomenal job of pulling everything together and reaching out to all different organizations and groups to create this fabulous environment."
"The people working on it had so much passion, and you can see it by the final product," continued Whildin. "This has been a wonderful experience working with the school."