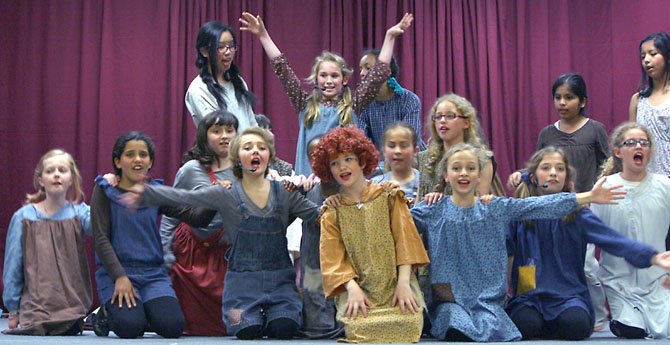 Editor's note: Annaliese Grunder, a sixth grader at Springfield Estates Elementary School, wrote about the very first performance of the school's theatre program, SEES Players.
Springfield Estates is not just your typical elementary school. It is not only occupied by neighborhood children but by youth from all over the Springfield and Alexandria area who have enrolled in the AAP program. Year after year students from all different backgrounds flock to SEES for another school year together. But in 54 years of schooling, Springfield Estates has never had a showcase of talent such as "Annie, Jr."
This September, SEES staff members welcomed two new music teachers: Mrs. Janette Moman and Mrs. Terri Lee. Both ladies recognized the talented young actors, dancers and singers in the school and were inspired to start SEES Players, a group of fifth and sixth grade thespians.
"We looked around at all of you, aspiring actors, and we saw Annie," Moman told an enthusiastic young cast of the first day of rehearsals. The PTA agreed to sponsor SEES players with a mini-grant for the licensing of the show. Then came the hard part—casting. But for Moman and Lee casting went quite smoothly, and the show was performed April 24-26.
Although everyone's performances were wonderful, it seemed that fifth grader Eimear O'Dowd was simply made for the role of Annie. She belted out each heartfelt song beautifully, letting the cheering audiences know that she was born to be a star. All of the orphans in the cast portrayed to the audience just how much they hated their lives in an orphanage, stamping their feet and belting their notes in the heavily choreographed number, "Hard Knock Life."
Sophia Sohn played to perfection the show's antagonist, Miss Hannigan, the menacing, hateful and frustrated head of the orphanage for girls in 1930's New York. The crowd of kindergartners practically shrieked when she first roared her lines on stage during the school performance.
Sam Dodson, a no-nonsense fifth grader was appropriately cast as billionaire Oliver Warbucks, who invites Orphan Annie to spend Christmas with him at his mansion. Onstage, Dodson transformed into a changed man who loves a child more than his money. His businessman moments were first-rate and decisive.
The lovely Grace Farrell, personal secretary to Warbucks, is one of the hardest and most loved roles in the play. "Yes, sir," may sound like an easy line to deliver, but adding personality to such short lines can be quite a challenge. Maria Pattison breathed life into her character magnificently, arms neatly clasped in front of her, always in perfect character. Her lovely soprano voice evened out the gruff demeanor of Warbucks, creating such polar opposite characters who both feel revitalized when they meet Annie.
Miss Hannigan's younger brother, the swindler Rooster, was uproariously played by Quin Hoagland. Rooster's murderous side was balanced out with a sly, wisecrack façade and loud, conspicuous costuming. Annaliese Grunder portrayed Rooster's cheap girlfriend, Lily, from Jersey City, complete with a comical Jersey accent, and bleach-blonde wig.
One of the most memorable and lovable characters in the show, Sandy the dog, had no lines at all, but was adorably acted by Maddie Lorenger. She was able to pull at the heartstrings of audience members bonding with Annie during her iconic song, "Tomorrow."

A show wouldn't run well without excellent students assistant directing. Jillian Brooks and Maggie Landis, performed the various duties of organizing the show, keeping notes, and had the difficult job of gaining the attention of 11- and-12-year-olds to keep them focused on their tasks.
Because SEES had never had such a large production, the crewmembers behind the scenes were faced with the challenge of adapting to new equipment quickly. All of the SEES Players had a magical time working on the show. "I really wasn't expecting to get the role of Annie. I feel so lucky. I think the show went wonderfully and was a lot of fun," O'Dowd said after the show.
Now at SEES, teachers continue to comment on how impressed they were with the whole cast and the overall performance. Once thing is for sure—although Annie, Jr. was the first show of this magnitude at SEES, it certainly won't be the last!