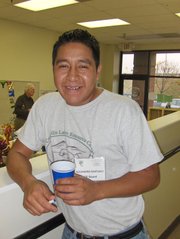 More than Centreville Immigration Forum members and local dignitaries participated in the Centreville Labor Resource Center's one-year anniversary. The workers did, too, and were happy to be there.
"I feel blessed because, before they opened the center, a lot of bad things happened on the corner while we waited for jobs," said Alejandro Santiago. And often, they went from bad to worse.
"Some employers would make us work hard and, afterward, we'd ask them for pay, and they'd say, 'I'll come tomorrow and pay you,'" said Santiago. "So we were happy, knowing we'd worked and would get paid. But then that person never came."
He said that happened to him a couple times and other workers experienced the same thing. But the employers always had the upper hand and no one was fighting to make sure the day laborers were treated fairly.
"It made me sad because I'm supporting my parents and seven brothers and two sisters back home in Guatemala," said Santiago. "But now it doesn't happen because the center takes down the employer's license-plate number and information."
To the workers, he said, the labor resource center represents more opportunities to improve their lives, learn English and obtain training in a variety of skills. "It also lets people know who I am and that I have something to offer," said Santiago. "When I came to those first [CIF] meetings, I had no idea what would happen. But now it's like we have another family here at the center."
"The people I know now are very kind to me, which makes me more comfortable," he continued. "I hope the center will keep growing because it's a good opportunity for people like me."
CIF volunteer Jerry Foltz called the center's first anniversary "quite an accomplishment — just like the first day we opened. And we've added on, every day. It's been an adventure for the workers, volunteers and the community."
He noted that of the CLRC's more than 350 registered workers, 35 of them are women. "And they're all local," he added. Unlike what some residents feared might happen when the center opened its doors, the majority of the laborers live in Centreville. Said Foltz: "They're not from Manassas and Herndon."
"One of my dreams was to also help the workers' mental health," he added. "Many of them were depressed about not finding jobs, and they worried about paying their rent and buying food. Now, they have more confidence that they're able to earn money."
Nowadays, said Foltz, it's rare for a worker not to be paid. "And we've even raised the level of pay – which makes it more fair for others competing for jobs," he said. "The workers smile more, support each other, honor each other for their gifts and learn from each other."
The labor resource center's existence is only possible with donations. It's totally, privately funded, so contributions are always needed. To donate, go to www.centrevilleimmigrationforum.org.