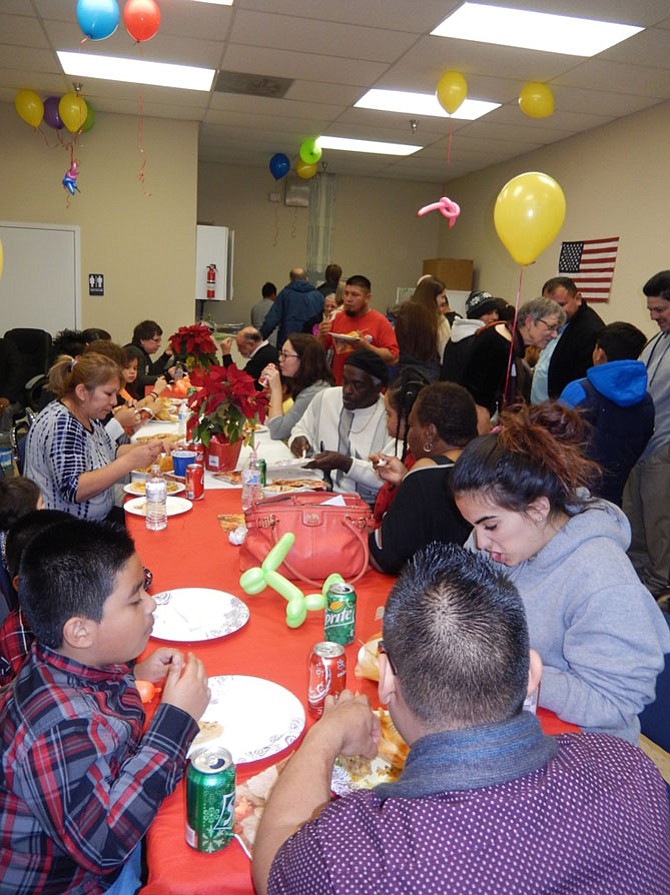 When the Centreville Labor Resource Center (CLRC) holds a celebration, it does so with people, food, music and fun. And its fifth-anniversary party Sunday afternoon was no exception.
The speeches were short, but the Dec. 11 event was long on warmth and camaraderie. Local residents, volunteers and workers mingled, reminisced, enjoyed live entertainment and feasted on homemade tamales, pupusas, arroz con pollo and cake. And children happily took swings at a flower-shaped piñata and scooped up the candy that fell out when the piñata was broken.
"It's such an amazing and positive environment," said CLRC Director Jasmine Blaine. "And it's so great to see the volunteers, the community, the workers and their children all in the same room."
But things weren't always so friendly and welcoming for Centreville's mainly Guatemalan-born immigrant community. Until the CLRC opened in December 2011, day laborers looking for jobs stood outside the Centreville Square Shopping Center, on the outskirts of Centrewood Plaza and near the Centreville Regional Library. And that led to tension in the local community.
Store owners said the men's presence discouraged customers from patronizing their businesses. And some mothers felt uneasy bringing their children to a library with men standing outside.
Meanwhile, under the guidance of Centreville resident Alice Foltz — and with support from local churches and others — the Centreville Immigration Forum (CIF) was established to help the immigrants. Members made contact with the workers, directed them to social services that could help them and their families, and connected them to churches offering English-language classes. But they were still hired from the streets.
Then in early 2010, Al Dwoskin, owner of the Centreville Square Shopping Center, proposed the idea for a worker center. He later donated one of his storefronts for it and agreed to pay for utilities if the CIF would run it. So the CIF began fundraising and soliciting grants and donations to hire a director and an assistant.
It also invited the laborers to its planning meetings, had them develop the center's rules and regulations and made sure they were an integral part of the new facility so they'd actually use it. And it acquired an ally in former Sully District Supervisor Michael Frey, who supported the idea of a labor center when — fearing the unknown — most of the community was initially against it.
Now, five years later, the CLRC is a regular part of the community. Employers hire the workers from the center, and the CLRC makes sure they get paid for their labor — which didn't always happen when employers picked them up from the streets. And now that local residents realize what good jobs the workers do, they hire them on a regular basis, as well.
CLRC volunteers and workers have come to know and trust each other, and the workers feel vested in the center they helped to create, so they want it to be successful. In fact, worker and CIF board member Pedro Brito arranged Sunday's celebration.
"How impressed I was with the work Pedro did to organize this," said Blaine. "He spoke with the community, the workers, the volunteers and me. He got everyone involved in planning this, and I'm very proud of his leadership role."
Before the meal, Supervisor Kathy Smith (D-Sully) addressed the crowd and thanked Foltz for all she did to bring the community together. "She helped create a place where people could come, find work, be safe and get the help they needed to learn English and life skills such as financial literacy," said Smith.
She also praised Frey, saying, "If it wasn't for his vision and hard work, we wouldn't be here. And I look forward to [this center] being here for many more years."
Speaking next was Frey. "Can you believe it's been five years since this center opened its doors?" he asked. "And it was on a cloudy day, like today, when we cut the ribbon. It's amazing that it worked, when there were so many naysayers who said it was doomed to fail. But Alice, Al and I knew it would succeed."
To the workers, Frey said, "I give credit to you who came here knowing you could find work and that it would change your lives. As for the volunteers, so many are still here after five years, and it's so heartwarming. So when you think about what we've done in the past five years, think about the next five and everything you'll accomplish in the future. Thank you for all you've done and for all you will do."
Then Foltz, the CIF president, expressed her gratitude to the community "because you make this whole thing possible."
Later on, Smith called the CLRC "a great resource because it provides the workers with a safe place and ensures that they get paid fairly. It's also a resource in the community for people needing to find others to do jobs for them. It just creates a great community to live in."
Also pleased with the way things have turned out, Foltz said, "We have such a wonderful community of workers and volunteers in the center, from all over the world. And they all work together to make this place a success."
"When we began, we had a very small group of workers, and none of us knew if we'd be able to create something that would be accepted by the community," she continued. "But the residents have become our employers, too, and many have volunteered with us. And for everybody who participates here, the center is a symbol of what happens when people work together to improve the community."
Referring to a large banner in the window advertising the anniversary, Foltz said the workers who created it came from Algeria, Afghanistan, the U.S. and Guatemala. "And that kind of cooperation is what happens here every day," she said. "We work hard to encourage leadership by everyone here, so it's not a center run by a few people to serve everybody else — it's a center in which everybody's leadership is respected and valued."
For more information about the center or to hire a worker, call 703-543-6272.