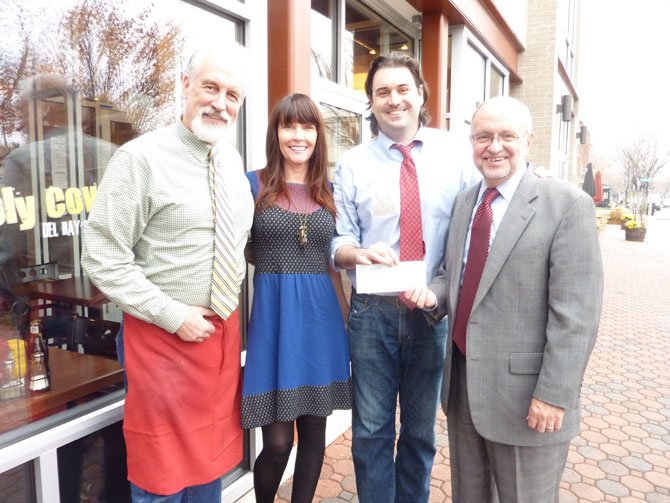 Alexandria — With checkbook in hand, Bill Blackburn sat down Nov. 27 to write the first check payable to ACT for Alexandria as part of a partnership between the community foundation and the recently opened Holy Cow gourmet burger restaurant in Del Ray.
"Well, it's good news for the people of Alexandria and bad news for us," Blackburn joked as he double checked the tally of burgers sold during the first two weeks of operation. "Looks like we sold 3,961 burgers. At 25 cents each, that makes $990.25 for ACT charities."
Officially called "Holy Cow, Del Ray's Gourmet Burger Joint," the restaurant represents the latest venture for co-owners Blackburn and "Mango" Mike Anderson following last year's launch of Pork Barrel BBQ on Mount Vernon Avenue.
"It's a worn out phrase 'giving back to the community. For us, this is more like paying it forward."

Holy Cow co-owner "Mango" Mike Anderson
"One quarter itself doesn't make a difference but they add up," Anderson said. "People are in line fighting over what charity to donate to."
The Holy Cow menu features 10 signature gourmet burgers, regular and sweet potato fries, milkshakes and sodas. Veggie burgers and turkey burgers are also available.
"What makes us stand out from other burger joints are the gourmet toppings and unique ingredients," said chef Beth Henrickson, a former manager at Evening Star Café. "We serve only 100 percent natural Angus beef and tried seven or eight different blends to get the perfect patty."
In addition to Henrickson's creations, customers are able to build their own burger with a range of choices for toppings and buns. When placing their order, customers then designate one of more than 75 local charities listed on the back of the menu to receive 25 cents for each burger sold.
"This is a wonderful way for parents to get kids involved in philanthropy," said ACT Executive Director John Porter, who was on hand to receive the check. "Kids learn about local charities when they decide who they want to give to each week."
Porter stressed that a charity need not be under the ACT umbrella to participate in the partnership.
"ACT will administer the distribution of funds but any Alexandria nonprofit is eligible and can contact me to see about being included on the list," Porter said.
For Anderson, who Henrickson credits with the idea behind the popular marshmallow dipping sauce that is served with the sweet potato fries, Holy Cow is more than just another restaurant.
"It's a worn out phrase 'giving back to the community,'" Anderson said. "It's almost a cliché. For us, this is more like paying it forward."
To contact Porter, call 703-739-7778 or email John.Porter@actforalexandria.org. www.holycowdelray.com.