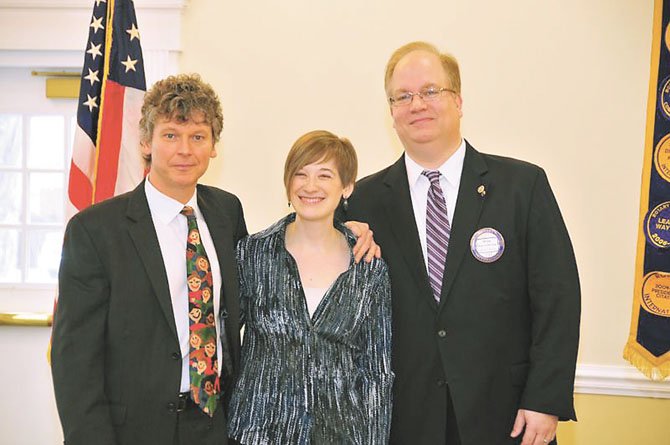 The Fairfax Rotary Club welcomed Fairfax Symphony Orchestra musical director Christopher Zimmerman to its Jan. 23 membership meeting. Speaking to a crowd of over 50 business and community leaders at the American Legion Hall in Fairfax City, Maestro Zimmerman mesmerized the audience with his colorful talk which emphasized his 2011/2012 Season focus on "the diversity of classical music."
Entertaining the audience with excerpts from The Fairfax Symphony Orchestra upcoming programs, Zimmerman reinforced Fairfax Rotary Club members' commitment to supporting worthwhile non-profit organizations in and around the Fairfax community.
Joining Maestro Zimmerman during the presentation was Tara Nadel, Patron Services Manager and Educational Director. She detailed the many educational and community outreach programs conducted by The Fairfax Symphony Orchestra throughout the year including over 50 youth education programs held at elementary, secondary and high schools.
The Rotary Club of Fairfax meets on Mondays at 12:15 p.m. at the American Legion Hall on Oak Street in Fairfax City. For more information about the Rotary Club of Fairfax, visit the club's website at www.fairfaxrotary.org or email Rotary Club of Fairfax's Executive Director Irby N. Hollans, Jr., at ihollans@earthlink.net.