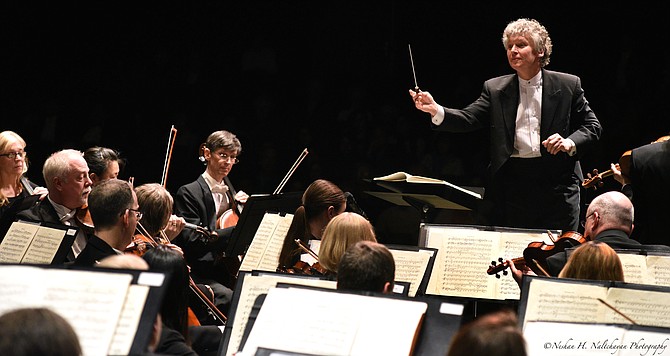 Where and When
Fairfax Symphony Orchestra presents "La Bohème" in concert at George Mason University Center for the Arts, 4400 University Drive, Fairfax. Performance Sept. 22 at 8 p.m. Tickets $25, $39, $50, $53, and $65. Student tickets $15. For tickets, visit http://www.fairfaxs…">www.fairfaxsymphony… or call 703-993-2787. Note: Pre-Performance discussions at 7 p.m. with Fairfax Symphony Orchestra conductor Christopher Zimmerman and special guests for insights into the performance.
The powerhouse professional Fairfax Symphony Orchestra opens its 2018-2019 season with a special performance of "La Bohème" in concert. This is the first time the orchestra will present an entire concert-opera endeavor. The concert will feature renowned opera stars performing Puccini's beloved masterwork about a tragic love affair that has enthralled audiences for over a century.
The concert also celebrates music director and conductor Christopher Zimmerman's 10th anniversary season with the Fairfax Symphony (FSO).
"La Boheme" tells a story of love and death within a bohemian circle of friends in 19th century Paris. The opera is cherished for its arias enfolding a love affair between a poor poet and a poor seamstress. Soprano Danielle Talamantes will perform the role of Mimi, the down-on-her heels seamstress. Tenor Rolando Sanz will perform the role of Rodolfo, the broke poet. Colleen Daly is Musetta, as a seemingly carefree singer.
The FSO performance of "La Bohème" will also feature singers from the Potomac Vocal Institute lead by the celebrated opera performer Elizabeth Bishop.

"The arts are an essential source of creativity, education, and economic impact in Fairfax County," said Jonathan Kerr, Executive Director, FSO. "We're honored to dedicate this season to Maestro Zimmerman's 10th Anniversary. Under his leadership the Fairfax Symphony is increasingly recognized as one of the leading regional orchestras in the country."

Zimmerman has scheduled a broad repertoire for the coming FSO season with a varied and emotional musical experience for patrons. Zimmerman has a vision that the FSO "must continue to build its programs and reputation in Northern Virginia and the D.C. region, to represent Fairfax County as fully and relevantly as possible, and to provide meaningful and high-quality artistry."
Under Zimmerman's baton, the FSO has also engaged the Northern Virginia community by performing D.C. area premieres such as Philip Glass's "Piano Concerto No. 3" written for pianist Simone Dinnerstein, who is an FSO audience favorite.
The Fairfax Symphony Orchestra also provides a wide spectrum of educational and community outreach programs. The FSO has partnered with Fairfax County Public Schools for more than 50 years. The FSO performs before about 10,000 listeners each year.
The upcoming FSO season includes programs with composers including Tchaikovsky & Beethoven; Mozart, Gershwin and Eryilmaz; Mendelssohn and Schumann, as well as Verdi. There will also be special performances of "The Nutcracker" with the Fairfax Ballet, and Holst's "The Planets" with the Fairfax County All-Stars Youth Orchestra.