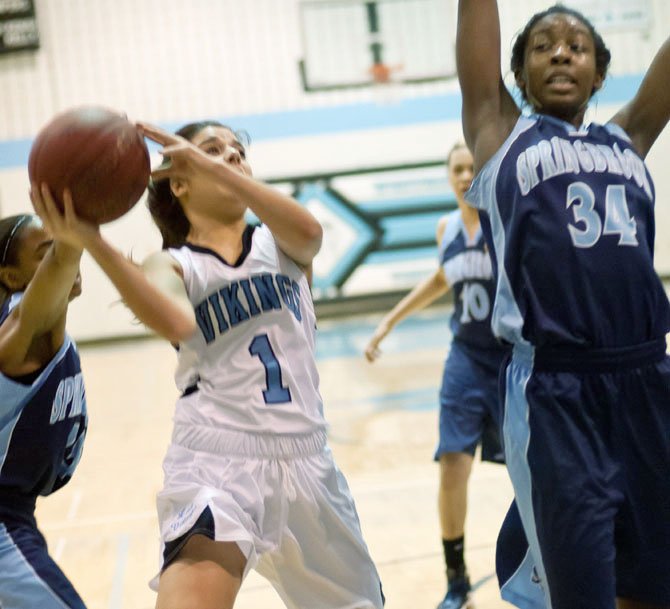 Whitman girls' basketball coach Pete Kenah sat at a desk and opened the team's scorebook after a Feb. 3 contest against Springbrook. Two days earlier, the Vikings shot 3 for 28 in the first half against Richard Montgomery en route to a 54-40 loss. Forty-eight hours later, Whitman's offensive effort against the talented Blue Devils left the scorebook littered with ink.
Four Vikings reached double figures and six scored at least seven points as Whitman produced its second-greatest offensive output of the season during a 75-64 victory at WWHS.
The Vikings had scored 44 or fewer points in four of their last five games before unloading against the Blue Devils' man-to-man defense. Whitman scored 24 points in the second quarter and led 38-33 at halftime, nearly matching in 16 minutes what took 32 to produce against Richard Montgomery.
"We were confident against their man-to-man defense that we could get some things done," said Kenah, whose Vikings have each had to make 115 shots during recent practices in an attempt boost offensive production. "I think making a couple shots early just let us go. … I think a part of it was the quality of the looks. Not as many looks were contested and part of that was [due to] the ball movement and the penetration."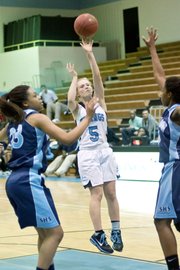 Senior guard Rachel Sisco torched Springbrook inside and out, attacking the basket and knocking down a pair of 3-pointers on her way to a team-high 17 points. With Whitman leading 50-49 entering the fourth quarter, Sisco opened the final period with a pair of free throws and a 3-pointer from the right wing. No. 5 also contributed to a defensive effort that forced 31 Springbrook turnovers.
"I think we really came in thinking we were going to win," Sisco said. "We prepare so much for every game, we really felt like we prepared much more than Springbrook. We really knew the team well and that we really knew that we could stop everything they had."
Junior forward Dani Okon also contributed at both ends of the floor, most notably during a high-octane second quarter. Okon scored six of her nine points in the quarter and led an aggressive, full-court defense that forced nine turnovers in the period.
"She's just a demon on our 1-2-2 press," Kenah said. "The deflections, they got us easy looks. … Her ability in the second quarter to get us easy layups really helped our confidence."
Junior guard Kim Durante, who entered the contest averaging 3 points per game, came off the bench to score 14. Durante received an inbounds pass under the basket, scored and was fouled with 1:35 remaining in the second quarter. She would convert the three-point play, giving the Vikings a 38-29 lead — their largest of the first half. Whitman led by three with five minutes to play when Durante buried a 3-pointer from the right corner. The Vikings led by at least four points the remainder of the contest.
Senior forward Kristina Feldesman scored 13 points for Whitman and junior guard Brittany Fleck added 11. Fleck scored all 11 points in the second half, including multiple clutch jumpers.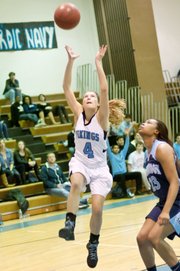 "We never gave up with our shooting and our defense," Fleck said. "I think that was big. We never lost our confidence."
Five-foot-9 junior post Linn Bumpers scored seven points and grabbed seven rebounds while battling inside against a Springbrook team with superior size.
"That kid's just tough as nails — love her to death," Kenah said. "She comes to practice and it's always in a sleeveless jersey. She is proud of her guns or her pipes or whatever she's calling [her arms] this week. It's just who she is. But what was so neat was in the first quarter there was that toughness, [but] the skill came. There were some layups around the rim that she was able to make that really, really helped us."
Whitman improved to 11-7 while Springbrook fell to 12-6. The Blue Devils received a 26-point effort from Capree Garner and outrebounded Whitman 42-31, but it wasn't enough.
Said Kenah: "I just think that it's going to help our swagger and our confidence moving forward."
Whitman will travel to face defending state champion Gaithersburg at 7 p.m. on Friday, Feb. 10.