Rachel Sisco couldn't buy a bucket, misfiring from the perimeter with regularity. Kristina Feldesman attacked the basket, earning multiple trips to the free-throw line, but came up empty more often than not. Alex Purdy couldn't get it going at the offensive end.
The Whitman girls basketball team lost to Walter Johnson 49-36 on Jan. 20, snapping a three-game winning streak for the Vikings. Despite scoring just 15 points in the first half and trailing by 11 in the third quarter, Whitman pulled to within two early in the fourth. But after a bucket by Feldesman cut Walter Johnson's lead to 33-31 with 6:33 remaining in the contest, the Warriors held off the Vikings' quest to tie or take the lead.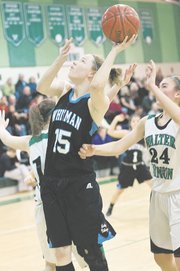 With leading scorer Angelica Ceccone sidelined for nearly a month — and possibly for the remainder of the season — due to lingering effects of a knee injury suffered last season, Whitman has relied on a committee approach for picking up the offensive slack. On Friday, however, the Vikings didn't have a player score more than six points as Whitman produced its lowest offensive output of the season.
"She's a natural scorer. She finds a way," Whitman head coach Pete Kenah said about Ceccone. "Our leading scorer tonight had six points. I don't think in two years Angelica's ever only had six points. Now It might take her a lot of shots to get six points, but she would find a way to get more. …
"[The Vikings' offensive outlook without Ceccone is] who's going to be our leading scorer tonight? We've had five different kids lead us in scoring. Versus Richard Montgomery [on Jan. 13], it was great. Alex Purdy has a career-high 19, it loosens things up [and] other people do their thing. Everyone else has sort of stepped up their game. Tonight was really the first game where we were sort of looking for answers and we didn't have any."
The Vikings' frustration was evident as players started to grumble after repeated misses. Whitman's most productive stretch was a 9-0 run late in the third quarter and into the fourth, allowing the Vikings to keep the game close for most of the final period. However, Walter Johnson pulled away in the final two minutes, closing the contest on a 9-0 run.
"It's one of the hardest things as a player to see the ball continuously going out of the basket," an emotional Feldesman said. "I think what we needed to and weren't able to do is build off of the smaller things — build off us making a layup or us making a good defensive play."
Whitman's struggles oozed down to the defensive end as Walter Johnson post Kristen Larrick scored a game-high 24 points. The Vikings tried to front Larrick, play behind her and play behind her with a double team but none of it worked.
"When our shooting's off," Sisco said, "we don't really come back hard on defense and it's sort of an ongoing cycle."
"Everyone else has sort of stepped up their game. Tonight was really the first game where we were sort of looking for answers and we didn't have any."

— Whitman head girls basketball coach Pete Kenah
Sisco and Feldesman each scored six points for Whitman. Linn Bumpers and Brittany Fleck each scored five points, Purdy, Lindsay Herschfeld and Yeiwah Brewah each scored four and Kim Durante added two.
Feldesman said if the Vikings are struggling offensively, they need to find a way to play well at the other end.
"You really just have to keep focused and have the mindset that, hey, we didn't get it on offense that time, let's play lockdown defense so we can get on offense again," Feldesman said. "I don't think it's necessarily a matter of separating the two, I think it's a matter of having one motivate the other."
The loss was Whitman's second against Walter Johnson this season — the Wildcats beat the Vikings 46-42 on Dec. 21 — and dropped its record to 8-5, including 3-3 in the division.
"In the locker room you could see that there was definitely a sense of hurt," Kenah said. "This is my 10th year coaching. It hasn't been since my second year that we lost both games to Walter Johnson."
Whitman will travel to face Bethesda-Chevy Chase at 7 p.m. on Friday, Jan. 27 and Wootton on Jan. 30. The Vikings' next home game is Feb. 3 against Springbrook.
"This just isn't us," Feldesman said. "We need to get back to our Whitman basketball."