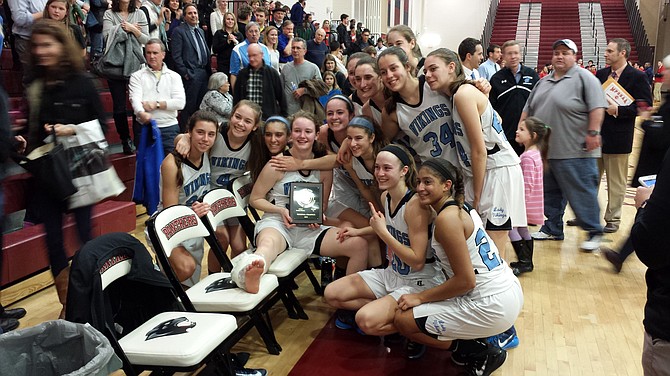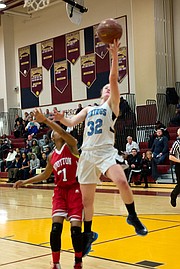 After accepting the 4A West region championship plaque on the court at Paint Branch High School, members of the Whitman girls' basketball team ran back to the bench to celebrate with their teammate who played a major role the Vikings' victory.
Whitman guard Marie Hatch sat with her extended right leg supported by chairs and an ice bag on her ankle. The junior had scored 23 points and her timely buckets helped Whitman overcome a first-half deficit en route to a 73-60 win over Wootton in Monday's region final. But late in the fourth quarter, with the Vikings comfortably ahead, Hatch landed awkwardly and had to be helped off the court. It would later be determined Hatch had fractured her ankle and would miss the remainder of the postseason, putting a damper on the Vikings' second region championship in three years.
"[It's] the biggest shame," Whitman head coach Pete Kenah said, "because I thought she was the player of the game — offense, defense, timely shot-making."
Whitman, rarely tested during the season, entered the contest with a 22-0 record, including a 56-41 regular-season win over Wootton. However, the Patriots came out strong in Monday's first half and led 25-17 with 3:18 remaining in the second quarter. A three-pointer by Whitman's Hannah Niles and a pair of buckets by Abby Meyers helped cut the Wootton lead to 29-24 before Hatch took care of the rest.
Hatch knocked down a 3-pointer with 47 seconds left, cutting the lead to two. Later, she scored on a putback in the closing seconds, tying the score at 29 entering halftime.
"I just didn't want to lose," Hatch said. "I saw it was a possibility, but I just didn't want to lose."
A 6-0 run in the third quarter helped Whitman gain slight separation and the Vikings led 50-41 entering the fourth quarter. Whitman then put the game away with a 15-5 run to open the final quarter.
Meyers scored 17 points for Whitman.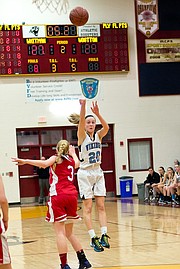 "We knew Wootton is a really talented team," Meyers said. "You've got to hand it to them. They put up a good effort and they gave us a big challenge. We just stuck together. ... I think [Hatch is] the MVP of this game. When we needed her, she really [stepped] up. It's just dreadful to have her go down at the end of the fourth quarter."
Senior forward Alison Poffley scored 10 points for Whitman and Niles finished with nine.
Senior guard Kaitlin Klausing led Wootton with 16 points and senior guard Cece Kobylski finished with 14. Freshman guard Zoey Goldberg scored nine points, and senior forward Ellie Kobylski, senior guard Sheri Addison and sophomore forward Shannon Welty each had seven.
Wootton finished the season with a 21-4 record.
Whitman improved to 23-0 and will face Eleanor Roosevelt in the state semifinals at 3 p.m. on Thursday, March 12 at Towson University.
"We finished two of our goals: have an undefeated season and to win regionals," Meyers said. "Now, our last goal we need to accomplish is most important — to win states."
Eleanor Roosevelt is ranked No. 5 in the Washington Post's top 20. Whitman is ranked No. 3, but will be without Hatch, one of the Vikings' top offensive threats.
"I think it just showed a lot about this team, what a close-knit family group they [are, that they] accepted [the championship plaque] and they ran over to [Hatch]," Kenah said. "I think we'll remember that particular [moment] long after the other ones."