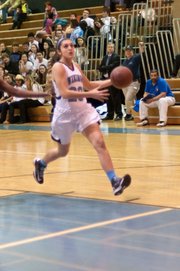 Bethesda — Six-foot-3 Bethesda-Chevy Chase center Nina Haller possessed the ball early in the second quarter of Monday night's game at Whitman High School when Whitman forward Dani Okon, who is six inches shorter than Haller, reached up, grabbed the ball and ripped it away from the big Barons senior. Okon then headed toward the bucket and drew a foul.
The Vikings are loaded with players like Okon — selfless, hard-working and aggressive. Factor in positive team chemistry and the mental toughness to overcome injuries to key players and the result is a 15-3 Whitman girls' basketball team that wrapped up the 4A South division title on Monday night — the program's first division title since the 2009-10 season — with a 62-38 victory against B-CC.
"We did so much work over the summer and so much team bonding and it's finally paying off now," Okon said after the game. "It's an awesome feeling."
Okon finished with eight points and nine rebounds — including five offensive boards — off the bench. Whitman head coach Pete Kenah, who was on the opposite sideline when Okon stole the ball from Haller, called the aggressive defensive play against the biggest player on the court "spectacular."
"[Okon] absolutely embodies this team," Kenah said. "She could be a starter, I think, on any team in the county. She comes off the bench and she's never complained. The game totally changes when she comes in. … That steal she had on the side in the first half where she jumped and ripped it out of [Haller's] hands, it was spectacular. [She] just energizes everyone. She really embodies the selflessness of this team."
"It's a super-competitive group. Winning is very important to them."

— Whitman girls' basketball coach Pete Kenah
Monday's game was only the third time all season Whitman had scored 60 points. The Vikings' leading scorer, freshman forward Marie Hatch, suffered a shoulder injury in late December and has yet to return. Kenah said Hatch was averaging more than 10 points per game at the time of her injury, and was also the Vikings' leader in assists and steals per game, along with the team's second-leading rebounder. According to stats from the Washington Post's Web site, Whitman does not have another player averaging even eight points per game. Okon is scoring 7.9 points per contest and senior guard Kim Durante is averaging 7.3.
Whitman has also been without 6-foot-3 junior Rebecca Ford, who suffered a lower leg injury, but that hasn't stopped the Vikings from winning with hustle and teamwork.
"Tonight was kind of an offensive explosion for us," Kenah said. "We only average [51] points a game, which for a 15-3 team is not much at all — but we only give up [40]."
Whitman's Durante and senior guard Brittany Fleck each scored 10 points against B-CC. Junior forward Avery Witt and senior forward Linn Bumpers each had seven points and junior guard Marissa Cannon had six.
"There's a new high-scorer every game and everyone always contributes," Bumpers said. "There's never anybody that just sits on the bench the whole game. We've played so many teams where there are girls that I didn't even see play when we shake their hands. Everyone on our team plays and everyone contributes."
If it's not contributing through scoring, it's contributing through hustle.
"It's a super-competitive group," Kenah said. "Winning is very important to them. You don't always find that in girls. What this group has been great about is they have been able to be … competitive without [being] combative. … We also do quite a bit of film work, so they don't want to be the one kid in film that gets pointed out didn't go after the ball."
Whitman, which is fighting to secure one of the 4A West region's top-four seeds, will host two-time defending state champion Gaithersburg at 5:15 p.m. on Friday, Feb. 8. If Monday's postgame interviews were any indication, the Vikings will maintain their teamwork approach.
"At the beginning of every season, before we start practice, we all sit in a room and we make goals and one of our goals is to be division champs," Brittany Fleck said. "Every year, we have similar goals — [reaching the state tournament at] UMBC, division champs — and this year, it's unreal …"
Bumpers jumped in to assist Fleck's comment.
"… how we're reaching our goals so rapidly," Bumpers said.