Arthur A. Anselene, town manager of the Town of Herndon, has announced the appointment of Maggie A. DeBoard to the position of Chief of Police. DeBoard assumes her new post on Monday, March 5.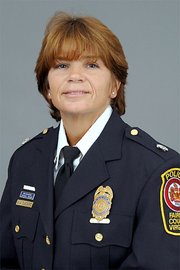 DeBoard comes to the town's top law enforcement position from the Fairfax County Police Department, where she has served for more than 25 years in positions of increasing responsibility, culminating in her current role as deputy chief, Investigations and Operations Support. Prior positions held by DeBoard include commander of the county's helicopter division, commander of the special operations division, captain of the Franconia district station, and major of the division II patrol bureau. DeBoard began her career with the county in 1986 as a patrol officer.
DeBoard holds a Bachelor of Science degree in Criminal Justice from George Mason University. She is also a graduate of the FBI's National Academy, the Virginia Tech Institute for Leadership in Changing Times, the WestPoint Leadership Course and the International Association of Chiefs of Police (IACP) Leadership in Police Organization Course.
DeBoard has extensive experience in community policing, training, leadership, officer safety, and collaborative efforts with other law enforcement agencies. As president of the Fairfax, VA-based Police Unity Tour, a non-profit dedicated to raising awareness of law enforcement officers killed in the line of duty, she is actively involved in fundraising for the National Law Enforcement Officers Memorial Fund in Washington, DC.
As the chief of the Herndon Police Department, DeBoard assumes the helm of an agency that is nationally accredited through the Commission on Accreditation for Law Enforcement Agencies as well as state accredited through the Virginia Law Enforcement Professional Standards Commission. The department consists of 57 sworn officers and 15 support personnel. DeBoard succeeds Colonel Toussaint E. Summers, Jr., who retired from the department in November 2011.