As Mount Vernon guard Kelly Loftus' perimeter potency became evident to those in the visiting crowd in Skinner Field House on Feb. 20, Centreville fans began shouting words of warning, pleading with the Wildcats to keep Loftus from getting open.
"Don't leave 3!" someone shouted from the bleachers, identifying Loftus by her jersey number. "You can't leave her!"
Advice from fans, while sound, was too little, too late for Centreville.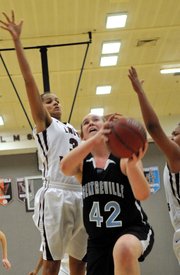 Loftus scored 23 points and tied a career high with five 3-pointers as the Mount Vernon girls' basketball team defeated Centreville 65-52 in the opening round of the Northern Region tournament. Loftus buried a triple late in the second quarter to give the Majors a 28-13 halftime lead. Her fifth 3-pointer came with 5:17 remaining in the third quarter, giving Mount Vernon a 35-19 advantage. Loftus, a junior, said she benefits from hearing others talk about denying her the ball.
"It actually gives me a boost in confidence," Loftus said. "I just try harder to get the ball. It actually makes me want to shoot more."
Loftus, a first-team all-National District selection, also grabbed 10 rebounds and finished with four steals.
"She was incredible," Mount Vernon head coach Courtney Coffer said. "She got going early. She found a nice little rhythm in the first quarter. The biggest thing with Kelly is when she gets going for us defensively, it just fuels her offense. …I thought she did a great job of knowing when to pick and choose her shots. … She looked like she just wanted it that much more than anybody else on the floor. She played a great game tonight."
Sophomore forward Samantha Porter scored 15 points, grabbed 10 rebounds and snagged three steals for Mount Vernon. Porter received second-team all-district honors, but Coffer said she deserved better.
"That kid, to me, is the most underrated kid in this region," Coffer said. "I was really [angry] that the other coaches in our district did not feel that she was first team. If there's another kid in our district better than her, something is wrong. That kid is incredible, she gives it 180 percent every time out, she does everything you ask. There are times on the floor she'll guard all five people on one possession. She's everywhere."
First-team point guard Taylor Dunham finished with 12 points for Mount Vernon.
"She looked like she just wanted it that much more than anybody else on the floor. She played a great game tonight."

— Mount Vernon girls' basketball coach Courtney Coffer about Kelly Loftus
The victory improved the Majors' record to 24-1 and extended their winning streak to 22 games. Mount Vernon's lone loss came against undefeated Oakton on Dec. 6, a 71-41 blemish on an otherwise perfect season.
Mount Vernon beat Yorktown 66-47 on Feb. 17 to capture the program's second consecutive district championship. After 25 games, Mount Vernon was ranked No. 14 in the Washington Post's top 20, giving the Majors the third-best ranking among Northern Region teams (Oakton is No. 4, West Springfield is No. 5).
"We worked hard for it, so I believe we all deserve it," Loftus said of notoriety received by the Majors. "We normally don't get much respect being Mount Vernon, but this year we really tried hard to gain respect and I think we got it."
Mount Vernon defeated Annandale 54-49 on Feb. 22 in the regional quarterfinals. The Majors will face Oakton in the semifinals at 6 p.m. on Friday, Feb. 24 at Robinson Secondary School.
"We're really enjoying it," Coffer said of the Majors' season. "At this point of the game, we just don't want it to end. That's what we're playing for. We're just trying to keep it going. No one wants to not have practice. No one wants to not be around each other anymore."