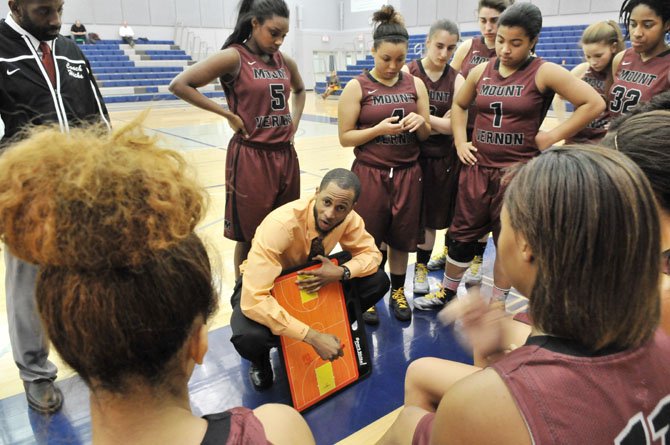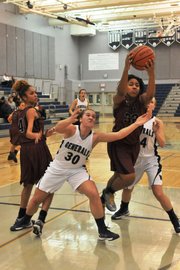 Arlington — With the postseason approaching, the biggest challenge facing the Mount Vernon girls' basketball team during the National District grind remains staying focused against inferior competition.
On Jan. 17, the Majors started the second half of their district schedule with a trip to Washington-Lee, which was without leading scorer Tatianna Torres, who sat out due to knee tendonitis. During the first quarter, the Majors forced 15 turnovers, jumped out to a 19-2 lead and led 23-5 at the end of the period.
Game over.
For head coach Courtney Coffer and his staff, keeping the team motivated in situations like these has been a challenge. Mount Vernon went on to beat the Generals, 64-32, and five days later beat Hayfield, 88-30. The Majors are undefeated in nine district games, winning seven by at least 30 points and four by at least 40. Mount Vernon's closest district victory was an eight-point win against Edison on Jan. 4, but the Majors at one point held a 19-point fourth-quarter lead. Coffer said he wants the Majors to play at or above their potential on every possession.
Easier said than done.
"Our first quarter tonight was excellent, but we have drop-offs after awhile," Coffer said after the W-L game. "… They see the score is 23-5, we're playing Washington-Lee and they're like, 'Hey, the game's over.' That's the struggle as a staff that we have: we have to try to keep them on task because it hurt us. We lost two [non-district] games [this season] by a combined score of three points. We started those games and we had those same lapses in those games against elite teams that we had tonight and other games.
"To get where we want to go, you really have to go into every game like you're playing the No. 2 team in the state or the No. 1 team in the state."

— Mount Vernon senior Kelly Loftus
"Once we get that corrected, I think we'll be fine come playoff time, but we've got a lot of work to do."
One positive to come from the lopsided games is the opportunity for reserve players to get in the game and show what they've got. Junior post Kelly Quigley came off the bench, grabbed six rebounds and scored two points against the Generals.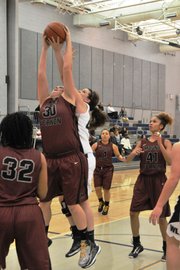 "I want to make an impact," Quigley said, "and I kind of want to show that I deserve a [chance] to play more."
Coffer said he was pleased with Quigley's effort.
"Kelly Quigley is a great kid," he said. "She comes to practice, she works hard [and] she does everything we ask, so for her to get an opportunity to get out there and get six big rebounds the way she did, that's great. Also, I'm loving it because it's telling me that kid wants to play and we need to play her more. … We're going to start upping her minutes because she can help us out in that paint area."
Kelly Loftus led Mount Vernon with 19 points. Taylor Dunham scored 10 points, Samantha Porter finished with nine and Tiffany Webster added eight.
According to stats from the Washington Post's Web site, Loftus is averaging 17.9 points per game. Dunham is averaging 11.2 per contest, Chanel Shannon is at 11.1, freshman Erin Irving averages 9.5 and Porter is averaging 9.3.
Mount Vernon is 13-2 overall, 9-0 in the district and ranked No. 7 in the Washington Post's top 20. The Majors will travel to face Wakefield at 7:30 p.m. on Friday, Jan. 25, and Edison, ranked No. 8 in the Washington Post, on Jan. 30.
"To get where we want to go, you really have to go into every game like you're playing the No. 2 team in the state or the No. 1 team in the state," Loftus said. "You can't really look at who you're playing; you just have to play to your potential every game. [It] helps if you have that mentality going into the game."