As Mount Vernon guard Kelly Loftus' perimeter potency became evident to those in the visiting crowd in Skinner Field House on Feb. 20, Centreville fans began shouting words of warning, pleading with the Wildcats to keep Loftus from getting open.
"Don't leave 3!" someone shouted from the bleachers, identifying Loftus by her jersey number. "You can't leave her!"
Advice from fans, while sound, was too little, too late for Centreville.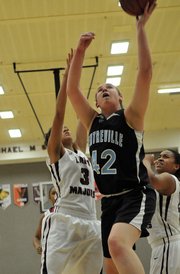 Loftus scored 23 points and tied a career high with five 3-pointers as the Mount Vernon girls' basketball team defeated Centreville 65-52 in the opening round of the Northern Region tournament. Loftus buried a triple late in the second quarter to give the Majors a 28-13 halftime lead. Her fifth 3-pointer came with 5:17 remaining in the third quarter, giving Mount Vernon a 35-19 advantage.
Loftus, a junior, said she benefits from hearing others talk about denying her the ball.
"It actually gives me a boost in confidence," Loftus said. "I just try harder to get the ball. It actually makes me want to shoot more."
Trailing by 15 at halftime, Centreville relied on senior forward Chaney Forbush for offensive production in the second half. After scoring three points in the first 16 minutes, Forbush scored the Wildcats' first 11 points of the third quarter. The 6-foot Forbush worked her way inside against a Mount Vernon team with no player taller than 5 feet 10, scoring 21 points in the second half on her way to a game-high 24.
Centreville cut the Mount Vernon lead to seven on three occasions in the second half, the last when a 3-pointer by Elizabeth Richards made the score 55-48 with 1:45 remaining. But the Majors would hold off the Wildcats, pulling away with a 10-2 run.
Forbush and Kayley Shomers played in their final game for Centreville.