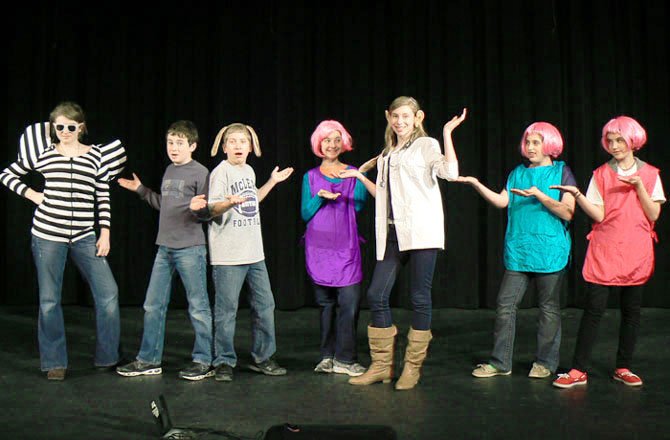 This spring, students at The Langley School will bring a new genre of theatre to the Langley stage – the first-ever Middle School musical. "The Phantom Tollbooth" will run Thursday, March 8 through Saturday, March 10.
The show includes 73 cast, crew, and pit orchestra members in grades 6-8, making it the biggest Langley production ever. Students are involved in all aspects of the show, serving as actors on stage or musicians in the pit orchestra and assisting with sound, lighting, set design, props, costumes, hair and makeup, ushering, and choreography.
Based on Norton Juster's classic children's book written in 1961, this new musical is the modern tale of a boy, Milo, who must save the princesses Rhyme and Reason and reunite the brother kings who rule over the cities of Dictionopolis and Digitopolis. Aided by a trusty time-keeping dog, Tock, Milo successfully brings harmony to the Land of Wisdom and learns many things about words and numbers along his journey. Perhaps the most important lesson he takes with him, however, is that everything we learn has a purpose and whatever we do affects everything and everyone.
When and Where
"The Phantom Tollbooth" will run Thursday, March 8 through Saturday, March 10 at 7:30 p.m., with a matinee performance at 1 p.m. on Saturday, March 10, in the school's Jeffrey J. Sherman Arts Center at 1411 Balls Hill Road in McLean. Tickets are on sale now for $8 each at www.langleyschool....
The family-friendly show includes 15 musical numbers, the majority of which are solo, duet, or small group selections. Five of the numbers are performed by the entire ensemble, complete with choreographed dances designed by student and faculty choreographers. A live student pit orchestra will accompany each musical selection. To prepare students for the experience of singing on stage, Musical Director Dana Litke held a series of audition workshops.
The show takes place in modern times, and the cast and crew have added clever nods to pop culture throughout such as a character inspired by Lady Gaga, for example. And the set, which was created by Langley's scenery crew elective class, suggests a variety of different art movements.