As the 4A West Region championship game neared an end and the Churchill boys' basketball team's fate was all but sealed, members of the Bulldogs kept spirits high, motioning to their fans to continue cheering. Later, applause could be heard from the guest locker room at Blair High School, where the Bulldogs held their postgame meeting.
Magruder, the region's top seed and defending champion, defeated No. 2-seed Churchill 54-39 on March 3 to take home the region title and advance to the state tournament. While disappointed their season had ended, the Bulldogs could take pride in what they had accomplished not just this year, but since the arrival of head coach Matt Miller four years ago.
After a pair of seasons in which Churchill finished near the .500 mark and won a playoff game, the Bulldogs in 2011 totaled 18 victories, captured their first division championship in more than three decades and reached the region semifinals. This year, Churchill won 19 games, captured its second consecutive division title and advanced to the region final for the first time in 33 years.
"We're a little disappointed that we came up short, but we're still happy because we had a great, successful season," junior guard Dominique Williams said. "We're just gradually building each year. That's the motto: just keep building. It's been a lot of hard work — a lot of blood, sweat and tears."
Magruder defeated Churchill 65-39 in the regular season finale on Feb. 21. Saturday's meeting was more tightly contested, however, as the Bulldogs led by two early in the third quarter when a Williams jumper gave Churchill a 21-19 advantage with 6:02 remaining. But that's when Magruder took over, outscoring Churchill 13-4 during the remainder of the quarter before pulling away in the fourth.
The Bulldogs led 5-4 after one and 14-12 in the closing seconds of the first half before Magruder's Justin Witmer buried a 3-pointer to give the Colonels a one-point halftime lead. Churchill limited Magruder to three field goals in the first 16 minutes.
"I just think we gave a more inspired effort tonight," Miller said when asked about the difference between the Bulldogs' effort against Magruder in the regular season and the region final.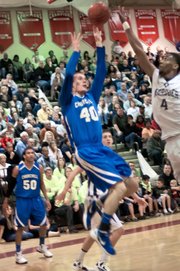 Another difference was the presence of senior forward Thomas Geenen, who missed the final two weeks of the regular season with a sprained ankle. Able to play against Magruder on Saturday, the 6-foot-6 Geenen grabbed 17 rebounds in his final high school contest. He finished his career as Churchill's all-time leader in rebounds (695) and steals (125).
"Our class was Coach Miller's first class — it was his first year when we were freshmen — so we really laid the foundation for the program," Geenen said. "Looking back, we can't hang our heads on this loss. We have to be proud and look forward to the future of what we built. We can look back 10 years from now and see this is a product of what we started in 2012."
Fellow senior Sam Edens led Churchill in scoring with an average of 15.4 points per contest, including a team-high 13 in Saturday's championship game. The 6-foot-3 guard also led the Bulldogs in 3-pointers made and finished his career ninth on the program's all-time scoring list with 650 points.
Edens said he will remember playing in front of Churchill fans.
Geenen shared Edens' admiration for the program's supporters.
"Our sophomore year, which was [Edens' and my] first year on varsity, we almost got no fans at our home games," Geenen said. "And you could tell with the success that we had, more fans kept coming and coming. You saw tonight, it was incredible."
Fellow seniors Quan Gill, Christian Bonaparte, Kyle Edwards, Louis Rothstein and George Nichols also suited up for Churchill for the final time on Saturday. Gill scored 10 points in the region final, including throwing down an alley-oop dunk.
"I think these seniors deserve a lot of credit for what they've done," Miller said. "[Some have played] varsity basketball since their sophomore year and they've gotten progressively better."
Williams will be the top returning athlete on what figures to be an inexperienced 2012-13 Churchill team. The 6-foot-1 guard, who is also a standout receiver for the school's football team, scored nine points in the region final and is one of the Bulldogs' best defenders.
"I don't think there's going to be a difference in our team," Williams said about next season. "I see myself telling [younger players] that you just need to keep up the intensity. Learn from us because we seniors are going to teach them a lot."
Geenen's words of advice for next year's team: "Don't get too cocky. We've had two great years in a row, but you can't assume that next year is going to be the same. You guys have to work hard and create your own destiny. You can't allow yourselves to rely on the past."