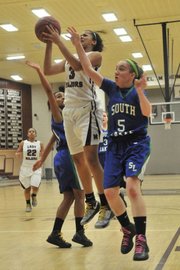 Mount Vernon — Long after the Tuesday's Northern Region quarterfinal contest against South Lakes had ended, Mount Vernon senior Kelly Loftus sat on the Majors' bench and cried.
Head coach Courtney Coffer helped Loftus up and hugged the standout guard, whose 20 points weren't enough against the Seahawks. As Loftus headed to the locker room, Coffer sat on the bench, dropped his head in his hands and released his own emotions.
It wasn't supposed to end like this, at least not for the Majors, who returned so many key players from last year's team that finished 25-2, lost only to eventual state champion Oakton and missed qualifying for the state tournament by one game. Yet here was Mount Vernon, suffering through the agony of a gut-wrenching, season-ending defeat courtesy of South Lakes guard Caitlin Jensen's buzzer-beater.
Jensen's jumper as time expired lifted the Seahawks to a 46-45 victory over the Majors in the girls' basketball regional quarterfinals at Mount Vernon High School. The Majors, who won their third consecutive National District championship on Friday, had a one-point lead and possession with less than 30 seconds remaining against South Lakes, but ended up falling short amidst a cloud of missed opportunities and controversy.
"I told [the Majors] to keep their heads up high. We're still the best team in this region, everybody knows it. One game doesn't determine that."

— Mount Vernon girls' basketball coach Courtney Coffer
Leading 45-44, Mount Vernon went to the free-throw line with 22.8 seconds remaining, but missed the front end of a one-and-one. The Majors were able to grab the offensive rebound and again ended up at the foul line, only to miss another front end of a one-and-one. South Lakes grabbed the rebound this time, but eventually turned the ball over with 7.3 seconds to play.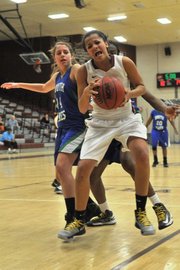 The final seconds would be controversial.
South Lakes stole Mount Vernon's ensuing inbound pass in the backcourt. Needing to travel the length of the floor, the Seahawks started toward a potential game-winning bucket when head coach Christy Winters-Scott said something near the South Lakes bench. One official blew his whistle, thinking Winters-Scott called timeout. She would later say that was not the case.
"I said, 'Screen on the ball' and he thought I called timeout, which I did not, at all," Winters-Scott said after the game. "After that it's a blur, to be honest with you."
Winters-Scott appeared furious over the stoppage in play, showing anger through an animated display that left Mount Vernon fans and head coach Courtney Coffer questioning after the game why Winters-Scott didn't receive a technical foul.
"If I had done that [stuff] that she did to those referees, I would have gotten kicked out of the game," an emotional Coffer said in the locker room. "It's personal, man."
The result of the play was South Lakes inbounding the ball from near midcourt with 5.6 seconds remaining. Jensen ended up with an open mid-range look and ended the Majors' season.
"To be honest with you, I thought it was a little off," said Jensen, who finished with five points. "I worked on [jumpers] with my trainer over the weekend, so it worked out perfectly. I couldn't find my rhythm for a long time, so I guess I found it over the weekend."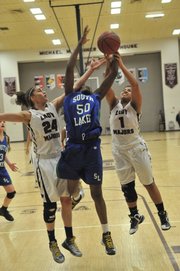 Sophomore forward Princess Aghayere led South Lakes with 11 points and 11 rebounds. Sasha Sprei scored nine points and Gabrielle Schultz and Mary Severin each had eight.
Mount Vernon's Loftus led all scorers with 20 points, including a trio of 3-pointers. Samantha Porter had 11 points and nine rebounds, Taylor Dunham scored 10 points and Tiffany Webster had four.
South Lakes led by as many as nine points in the first half, when a Schultz bucket gave the Seahawks an 18-9 advantage in the opening quarter. Mount Vernon trailed 18-12 at the end of one, but battled back to take a 27-25 halftime lead.
The Majors built a five-point lead in the fourth quarter after Porter converted a three-point play and then scored in transition, giving Mount Vernon a 43-38 advantage with 3:30 remaining. The Seahawks answered by scoring eight of the game's final 10 points.
The Majors ended the season with a 22-3 record. Their three losses were by a combined four points. The Seahawks improved to 22-4.
South Lakes, the No. 2 seed from the Liberty District, will face Oakton (C2) in the regional semifinals on Thursday at Robinson Secondary School.
"I told [the Majors] to keep their heads up high," Coffer said. "We're still the best team in this region, everybody knows it. One game doesn't determine that."