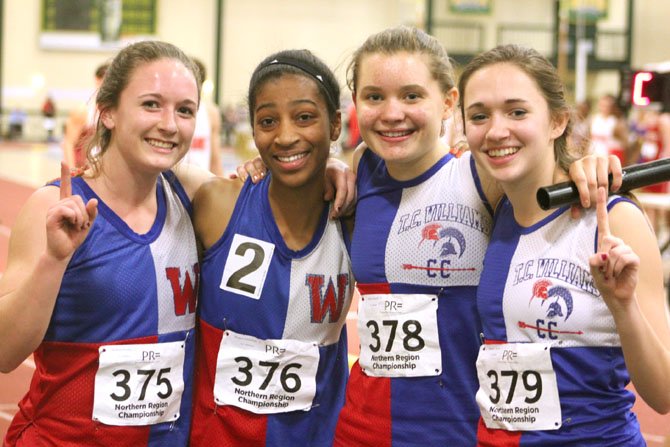 Jonathan Anderson won the shot put championship, Devon Cooper captured the long jump title and the 4x400 relay team of Kathryn Hendley, Morgan Lataillade, Sydney Schaedel and Shannon Smythe
finished first, highlighting the T.C. Williams indoor track team's performance at the Northern Region meet on Feb. 17-18 at George Mason University. In total, 16 Titans qualified for the state championships, which will be held Friday and Saturday, Feb. 24-25 in Hampton.
Anderson won the shot put with a toss of 52 feet, 3 3/4 inches, a new personal best. Cooper posted a first-place and personal-best mark of 21 feet, 6 3/4 inches in the long jump and the 4x400 relay team
recorded a PR and championship time of 4 minutes, 5.77 seconds. Smythe also qualified for states in the 1600-meter run with a personal-best and school-record time of 5 minutes, 12.64 seconds.
Schaedel also qualified for states in the pole vault (third, 9-6) and the 1000-meter run (fourth, 3:02.64). Jose Urritia (boys' shot put), Ayzha Ward (girls' shot put), Nicolas Ahumada (boys' pole vault), Kahron Lee (boys' high jump), Jennifer Zhu (girls' high jump), Indya Weaver (girls' triple jump), Za'Quan Summers (boys' 55-meter dash and 300-meter dash) and the boys' 4x200 relay team of Willie Curry, Percy Haskins, Joshua Alcon and Summers also earned a trip to states.
The T.C. Williams boys' team finished in a third-place tie with Annandale with 56 points. Westfield won the region championship with 76.5 points and South Lakes finished runner-up with 60.
The T.C. Williams girls' team finished fourth with 47 points. South County won the team title with 81 points, followed by Robinson (65) and Oakton (58).