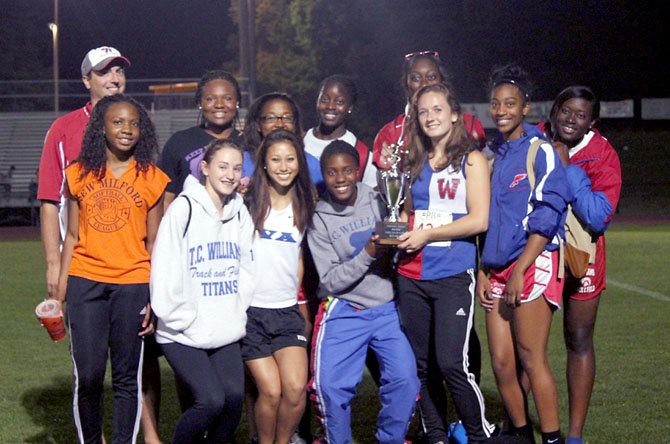 The T.C. Williams girls' track and field team finished second at the Northern Region championship meet on May 24-25 at Robinson Secondary School, finishing behind only South County. The TC boys' team had a chance to win the region title, but finished third due to a disqualification in the 4x400-meter relay event. Annandale finished first, followed by Westfield.
Ayzha Ward took home the individual discus championship for the TC girls. She also finished second in the shot put. Jada Roberts took third in the discus and fourth in the shot put. Sydney Schaedel finished second in the pole vault with a clearance of 11 feet, 3 inches, three inches shy of the meet record. Jennifer Zhu took fourth in the high jump with a personal-best clearance of five feet.
On the track, Schaedel took fourth in the 800 with a school-record time of 2:13.76 and Indya Weaver placed third in the 300 hurdles. The 4x400 relay team of Schaedel, Jada Toote, Kathryn Hendley and Morgan Lataillade finished second.
For the TC boys, Jonathan Anderson won the individual shot put championship and Michael Crokett finished third. Jose Urritia placed second in the discus.
On the track, Willie Curry and Za'Quan Summers placed third and fifth, respectively, in the 200. The 4x100 relay team of Mohammed Sesay, Curry, Percy Haskins and Davon Cooper finished second with a time of 42.45.
Athletes who finished in the top six qualified for states. The Titans will compete in four field events, five running events and two relays on June 1-2 at Sports Backer Stadium in Richmond.