Winfred Winans (Fred) Charlot, 49, died at his home in Buena Vista on Dec. 27, 2011 after battling esophageal cancer. Fred was raised in Alexandria and Arlington and lived in Northern Virginia until moving to the Shenandoah Valley in 2002. He attended T. C. Williams High School and National Business School in Alexandria.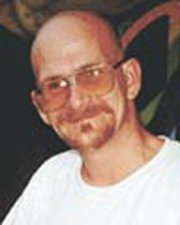 He was preceded in death by his wife Cheryl V.(Obaugh) Charlot in 2008, his father Col. Winfred Walter Charlot in 1997 and mother Elizabeth (Malone) Charlot in 1978 .
He is survived by his late wife Cheryl's adult sons Christopher A. and Jason S. Helmick and her mother Susan (Baugher) Obaugh of Staunton, and his companion/domestic partner Carol D. Pelter of Buena Vista and his adoptive sister Lynn M. Javins of Greenville, formerly of Alexandria as well as many friends in both Northern and Central Virginia.
Memorial contributions may be sent to Rockbridge Area Hospice at rockbridgeareahospice.org/