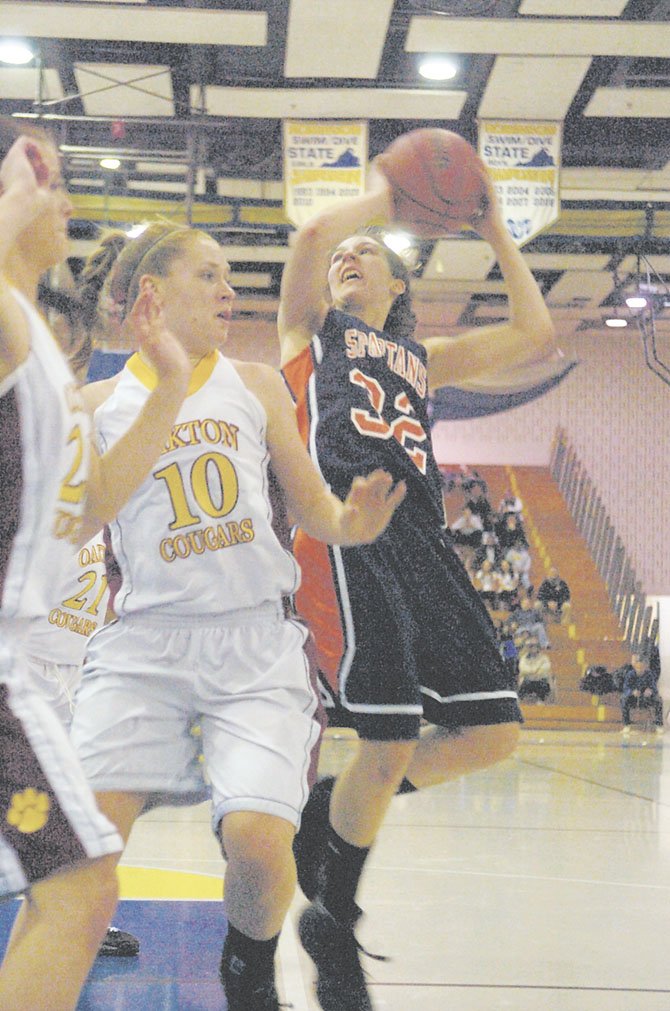 The Oakton High girls' basketball team is annually a formidable team and one of the top outfits in the state of Virginia. The Cougars won region crowns in 2009 and 2010. Last year, after winning the Concorde District tournament title and then reaching the Northern Region tournament semifinals, they saw their season end with a round of four defeat to West Springfield High. That setback, which ended the Cougars' season and prevented them from qualifying for the state tournament, was Oakton's first and only loss of the season and ended their hopes of winning a third straight region crown.
So going into the current season, Oakton had plenty of motivation to regain its status as region champs. And while the season is far from over and the postseason is still a month away from starting up, the Cougars have put together another spectacular campaign thus far. Going into this week, Oakton was a perfect 16-0 overall and 4-0 in the Concorde District.
"I feel that the team is in a good place right now," said Oakton head coach Fred Priester. "Our chemistry is very good. We are getting contributions from up to 10 players in each game."
In Oakton's lone game last week, it won at district opponent Centreville, 72-41. The team's top three players – Elizabeth Manner, and the Coyer twins, Caroline and Katherine – scored 20, 15, and 15 points, respectively as the Cougars took control right from the start with a 16-7 lead after one quarter and a 33-14 advantage at halftime.
Manner, a front court player, and the Coyer's, both backcourt players, have been fixtures in the starting lineup this winter. Several other Cougars have also made good contributions to the team either as starters or coming off the bench.
"We have been able to make adjustments in our starting lineup and still play a large number of players with different players beyond the Coyer sisters and Elizabeth Manner making strong contributions on defense, on the boards and on the scoreboard," said Priester, who went on to say such players as Torri Marquis, Karlie Cronin, Kate Dawson , Angela Sickels, Helen Roberts, Meredith Burroughs, and Jasmine Zeller have all gotten starts and preformed well.
CAROLINE COYER, in her fourth season as a starter, is one of the best players the region has ever seen. Oakton has won two region crowns during her career. Last year, Coyer, in leading the Cougars to the Concorde District tournament title, earned tourney MVP honors.
The star guard, who has accepted a scholarship to play collegiately at Villanova University in Philadelphia, is a remarkable scorer and passer, and all around outstanding player, including on the defensive end of the floor. A few weeks ago, she became Oakton's all-time career assists leader, passing former Oakton standout Jasmine Thomas (504 career assists). Prior to Friday's win over Centreville, Coyer had 516 assists in her career. She will soon become the all-time Virginia State AAA assists leader after surpassing Madison High's Jackie Freeman mark of 531. Freeman played for Madison in the late 1980s and early 1990s.
"She is the consummate team player," said Priester, of Caroline. "She will always find the open player and makes no distinction as to who [is on the receiving end]. She trusts everyone to finish if she just gives them a good pass. She has outstanding court vision and presence and the ability to thread the needle with the passes."
Caroline is a three-time First Team All-Concorde District selection and two-time All-Northern Region player. She has been named District Tournament MVP three times and Region Tournament MVP Twice. Last year as a junior she was named both the Concorde District Player of the Year and Northern Region Player of the Year. She entered this season with 1,128 career points.
This season, Caroline Coyer is averaging 15 points per game, along with 5.3 assists, 3.9 rebounds, and 3.9 steals. Her sister Katherine, who is also set to play at Villanova, is averaging 14.3 points with 4.2 assists, 6.3 boards, and 3.1 steals per contest. Katherine is shooting close to 83 percent at the free throw line.
Katherine, also a fourth year Oakton varsity player, was named Second Team All-District in each of her first three years, and made the All-District Tournament Team three times and All-Region tournament team once. Katherine, a three-time Concorde District Defensive Player of the Year, is on target to surpass 1,000 points in her career.
Oakton's third player averaging double digits in scoring is Manner (13.6 points, 8.2 rebounds). Marquis is averaging over seven points scoring a game.
Oakton has won each of its past seven games by at least 20 points. The last close game the Cougars played was prior to Christmas when they edged Georgetown Visitation, a private school in Washington, D.C., 56-55 in a Dec. 22 home game. Oakton overcame a 42-32 deficit following three quarters to win that game. Caroline tallied 19 points.

Two days earlier, on Dec. 20, Oakton got one of its bigger wins of the season when it defeated Vienna cross-town rival Madison, 73-56, on Oakton's floor. Caroline scored 29 points in that win over the Warhawks, who were led by Megan Henshaw's 20.
In action this week, Oakton was scheduled to play district games versus visiting Westfield on Tuesday, Jan. 24 and at Herndon this Friday night, Jan. 27.