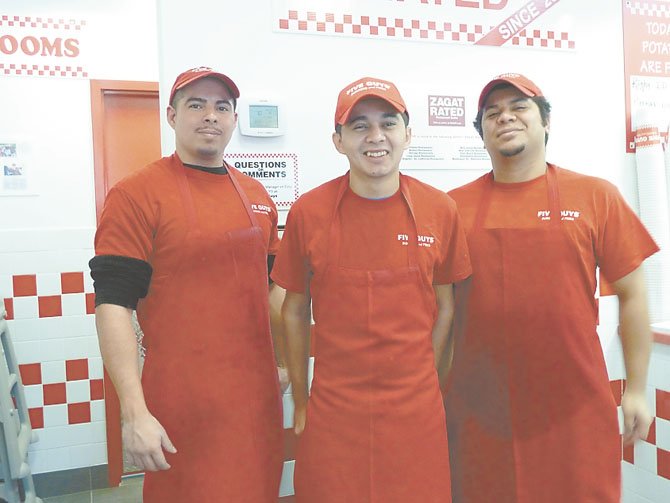 Potomac — The new "Five Guys Burger and Fries" restaurant in Potomac Promenade shopping center is attracting a lot of attention — and customers. The burger chain is booming from the time it opens at 11 a.m. until 10 p.m.
"We are busier than we ever dreamed we would be," said Operations Manager Jarrett Waller. "We sold 3,000 burgers the first week we were open in Potomac — and we had the most business out of all the Montgomery County 'Five Guys' locations. The Potomac restaurant is one of 10 "Five Guys" franchises owned by the Pyramid Enterprises LLC.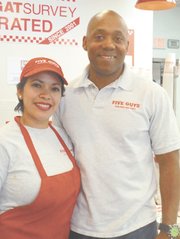 The restaurant opened on Dec. 31 without much fanfare. "We built it in just five weeks," said Waller. "We took over the Ritz Camera facility and had to totally remodel the space. We have hired about 20 part-time workers — most are local high school students and first time workers. We have an enthusiastic group of employees who are enjoying their jobs."
The first "Five Guys" was opened as a carry-out burger restaurant in Alexandria in 1986 by Jerry and Janie Murrell, parents of five sons. They sat their sons down one day and said, "You make the choice. You can go to college or open a business." The idea of entrepreneurship won — and the four sons (the fifth was a baby) chose to open a hamburger joint. They soon developed a cult following and, in the late '80s and early '90s expanded their business with five more restaurants and sit-down seating. In 2003, they initiated selling franchises and now there are 900 locations in 46 states and six Canadian provinces.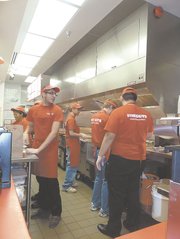 The restaurant uses only fresh ground beef and each burger is formed by hand. They cook the freshly-cut fries in peanut oil — and offer a variety of toppings for their sandwiches. Other menu options include a vegetarian sandwich and a grilled cheese sandwich. The potatoes and toppings are hand-cut each day. According to its website, there are over 250,000 possible ways to order a burger or hot dog. Waller gave away a "good-to-know" secret: "It's not on the menu, but you can also order a BLT in our restaurant."
Norma Lopez, the manager of the Potomac "Five Guys," said, "I love my job. It is so busy, but since we sell such a good burger — and hot dogs too — people love to eat here. It makes my job easy."
Behind the counter are more than five guys in their signature red shirts and hats. "Usually we have about 10 working each shift," said Waller. "We want to be certain our customer service is the best."