The Whitman girls' basketball team marked several boxes on the adversity checklist Monday night.
The Vikings experienced a sloppy first half at the offensive end while on the road against a Paint Branch team with a 17-4 record. Meanwhile, senior guard Marie Hatch, one of Whitman's best players at both ends of the court, missed the game due to injury.
While struggling through half of an away game against a quality opponent at less-than-full strength hardly sounds like a recipe for success, the Vikings managed to turn the scenario into a positive.
Whitman defeated Paint Branch 62-37, improving its record to 18-3 while extending its win streak to 13 games. While the Vikings struggled early on offense, Whitman limited Paint Branch by using a zone defense the team had worked on recently. When the Vikings' scoring picked up in the second half, Whitman turned a 22-11 halftime advantage into a blowout.
For Whitman, the outcome can serve as a reminder in future games that the Vikings are capable of overcoming adversity.
"With the different situations we've been in, I just think there's a lot of confidence that no matter what we see [we'll be able to deal with it]," Whitman head coach Pete Kenah said. "... Holy Child put a box-and-one against us and we were able to solve that — we were up 10-0 in the blink of an eye. There's just a lot of different looks that we've seen that we've been able to solve, so I think their confidence is high."
What did the Vikings take away from Monday's game?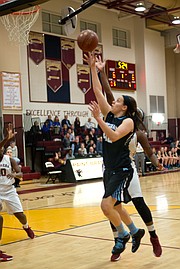 "If it's not going great on offense," Kenah said, "that it's a four-quarter game and believe in the zone."
Senior forward Betsy Knox led Whitman with 19 points. Junior guard Abby Meyers finished with 15 points, senior guard Hannah Niles scored seven, and junior forward Olivia Meyers and senior guard Jenna Hosker each had six.
"I think we've never played better, honestly," Niles said. "I think everybody's really buying in defensively and it's giving us a lot of energy offensively."
Whitman has won two region championships in the last three years and appears capable of winning another. The Vikings would benefit from the return of Hatch, who Kenah said has missed multiple games with pre-stress fractures in each of her lower legs, but her status is uncertain.
Hatch has battled injuries throughout her high school career. Last season, she suffered a broken right ankle against Wootton in the 4A West region championship game at Paint Branch High School.
"If there's any fairness," Kenah said, "she'll get to come back and give us something."
Despite Hatch's injury troubles, the Vikings remain confident that after multiple deep postseason runs in recent season, this can be the year Whitman wins a state title.
"Every single person on this team works so hard, whether they're sitting on the end of the bench or they're on the floor," Knox said. "You can count on the hard work. Also, we're just a very veteran team. A lot of us have playing together for six years. We know each other really well, there's a great dynamic there and I think we've over the years built up a trust for each other, which, certainly I hope will help us in the playoffs."
Last year, Whitman won its first 23 games before losing to Eleanor Roosevelt in the state semifinals at Towson University. In 2014, the Vikings finished 21-3 and lost to Kennedy in the sectional final. In 2013, Whitman lost by one point to Baltimore Polytechnic in the state semifinals.
"A lot of [Vikings players] on their scree-savers on their phones, they have a picture of Towson," Kenah said. "This has been the first group to really openly talk about advancing and going to Towson. Before, it was 'One game at a time.' It's just a goal that this group really, really wants. I think it's something special when you have seniors that want it. When you're an underclassmen, you can sometimes say, 'Well, I've got next year.' We have six seniors who put everything into the program and they're on a mission."
Whitman concludes the regular season with a home game against Wootton at 5:30 p.m. tonight.
Whitman, the No. 1 seed in Section I of the 4A West region, received a first-round bye and will face the winner of Montgomery Blair and Walter Johnson on Tuesday, March 1.